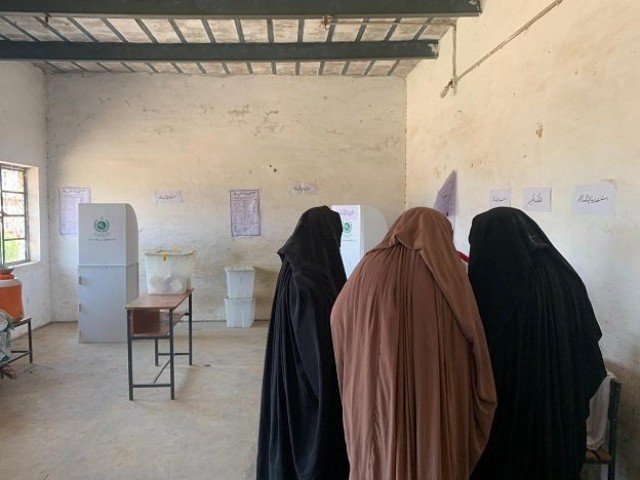 ---
PESHAWAR: The Election Commission Pakistan (ECP) on Thursday notified the final results of the provincial assembly elections held in Khyber Pakhtunkhwa's (K-P) tribal districts on July 20.

The ECP notification declares results of 15 K-P Assembly seats, with the result of one seat - PK-115 (Ex-Frontier Regions) - withheld for recounting.

As per the final list, the highest number of seats - six - went to independent candidates, followed by the Pakistan Tehreek-e-Insaf (PTI) with five, Jamiat Ulema-e-Islam Fazl (JUI-F) with two, and the Awami National Party (ANP) and the Jamaat-e-Islami (JI) with one seat each.




The six victorious independent candidates are Abbas-ur-Rehman [PK-104 Mohmand-II]; Shafiq Afridi [PK-105 Khyber-I]; Bilawal Afridi [PK-106 Khyber-II]; Muhammad Shafique [PK-107 Khyber-III]; Syed Ghazi Ghazan Jamal [PK-110 Orakzai]; and Mir Kalam Khan [PK-112 North Waziristan-II].

For the PTI, the five winning candidates are Anwar Zeb Khan [PK-100 Bajaur-I]; Ajmal Khan [PK-101 Bajaur-II]; Syed Iqbal Mian [PK-109 Kurram-II]; Muhammad Iqbal Khan [PK-111 North Waziristan-I]; and Naseer Ullah Khan [PK-114 South Waziristan-II].

Independents, PTI win big in K-P tribal district election

The remaining four election winners are JUI-F's Muhammad Riaz [PK-108 Kurram-I] and Hafiz Islamuddin [PK-113 South Waziristan-1]; ANP's Nisar Ahmad [PK-103 Mohmand-I]; and JI's Sirajuddin [PK-102 Bajaur-III].

"As per Article 106 of the Constitution, the independent returned candidates may opt to join any political party within three days of notification of returned candidates. Immediately after that the calculation of quota for four women reserved seats and one non-Muslim reserved seat shall be made," read the ECP notification.

"As such the Hon'ble Peshawar High Court may be apprised of this scenario and the Hon'ble Court may be requested to vacate stay order or dispose of petition on 1st August 2019 so that the returned candidate from PK-115 may be notified before determination of quota for reserved seats and may also be included/counted during determination of quota for reserved seats."

The dispute over PK-115 arose after PTI's candidate Abidur Rehman approached the ECP for a recount following his defeat by 74 votes to the JUI-F's Muhammad Shoaib.

The JUI-F candidate took the matter to the Peshawar High Court with the contention that the election commissioner has ordered recounting of ballots at only 16 polling stations.

The court has stopped the returning officer from declaring the result until August 1 and has sought comments from the ECP.

For the notified independent candidates, the ECP has set August 3 as the deadline to join any political party. The party leader has to write a letter to the ECP secretary which has to be submitted with the candidate's written consent on an affidavit.