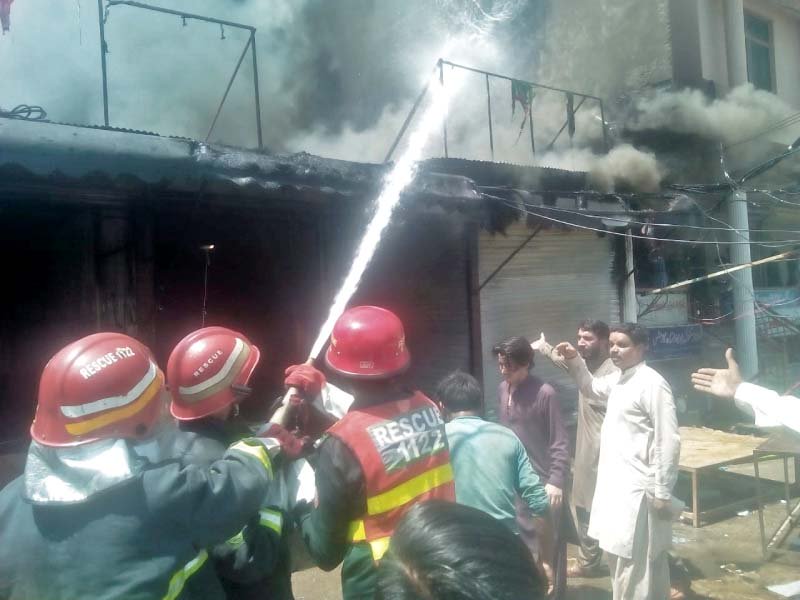 ---
RAWALPINDI: A devastating fire incident took place in an illegal market set up near Chakri Road area within the limits of Saddar Police Station. Several shops have been burnt to ashes while rescue teams from five departments including Pakistan Army, fire brigade and Rescue 1122 service put out the fire after fighting it for up to four hours.

No casualties were reported in the incident, but goods worth millions of rupees were burnt down. According to Rescue 1122 spokesperson, the incident took place at 1pm on Friday in an open market near Dhamyal Camp Chakri Road.

The fire, the reasons for which remain unknown, engulfed the entire market very quickly. The fire was so intense that the tin roofs providing shades to the shops of the markets melted down, while flames and smoke emitting from the fire could be seen at long distances. According to eyewitnesses, the fire initially erupted at one of the plastic goods shops of the market and soon spread to other shops.

Upon reports of the incident and request by Rescue 1122 services, five fire tenders at Dhamyal Camp Aviation Base reached the scene and took part in rescue activities. Teams from Pak Army cordoned off the entire neighbourhood and took control of road traffic to give way for rescue vehicles.

Six fire tenders from Rescue 1122 participated in extinguishing the deadly flames while teams from Rawalpindi Cantonment Board, Chaklala Cantonment Board and Municipal Corporation also reached the site and sprayed water cannons on all sides of the market.

In order to ensure safety of lives, all plazas, sky rise buildings and markets near Sasta Bazar were evacuated. Observing the intensity of the fire, officials from WAPDA cut down electricity supply for the entire Chakri Road.

The Rescue 1122 spokesperson reported that no casualties took place in the incident. However, members of the rescue teams faced immense difficulties due to suffocating and toxic smoke of the fire. After joint efforts of the rescue teams and Pak Army, the fire was finally extinguished after four hours.

The spokesman further said that a similar fire incident also took place at the market two years ago due to which goods worth millions of rupees were destroyed.

Fire extinguishing machinery and other arrangements are non-existent at Sasta Bazar and nearby tall buildings, and timely rescue efforts would have prevented the fire from spreading, the spokesman said, adding that investigations are being made to ascertain the cause of fire.

Furthermore, Saddar Police have registered a report of the incident after which the police began investigating the incident. The Express Tribune tried to ascertain the reasons for the operation of illegal market but heads of the city district government and other administrative bodies were not available for comment.

Published in The Express Tribune, June 29th, 2019.