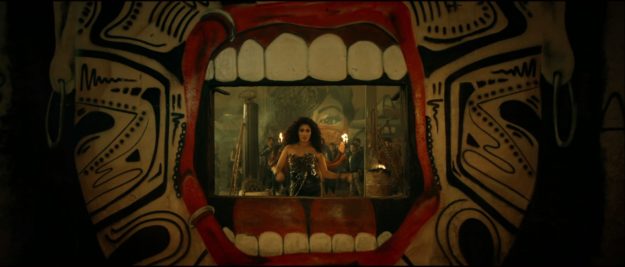 ---
Mehwish Hayat is ready to set the cinema screens ablaze, this time as Gangster Guriya in the upcoming film Baaji. The Tamgha-e-Imtiaz laureate dons a tough avatar as she shakes a leg on this new item number.




Osman Khalid Butt, the lead actor of the movie who plays Rohail, is the creative mind behind the song. He is also the lyricist and the choreographer.


?

With an exceptionally versatile dancer like Hayat, Butt had ample room to experiment with different backdrops which he clearly did. This Billi-turned-Chirya, who is now the Gangster Guriya you need to watch out for, goes from sitting on a Game of Thrones-inspired throne to breaking the garage floor by the end of the video.

Taha Malik is the music director and if you have not already guessed it, the song is sung by the famous Bollywood singer, Sunidhi Chauhan.




Looks like Hayat is not the only actor making a special appearance in the film. The video features actor Yasir Hussain, who opens the dance floor saying "I know the perfect Gangster Guriya".




Speaking of taking inspirations, one cannot help but compare Hayat's thuggish demeanour to that of Katrina Kaif from some of her Bollywood blockbuster item numbers.

Starting from Hayat's curls that look exactly like the ones that Kaif had in the song Husn Parcham in the Bollywood film, Zero.

The video features the Punjab Nahi Jaungi starlet as a rebel who has no care in the world, constantly reminding the viewers of Nawaz Mistry's persona in the song Afghan Jalebi from Phantom.

Lastly, if you loved Kaif's iconic slide in the Bollywood song Ishq Shava in Jab Tak Hai Jaan that released in 2012, you are in for a treat, as our Billi does it too in this song. You can decide for yourself who performs better!




People on social media see the resemblance too.


What do you think Is this coincident or inspiration?
Clicks from Mehwish Hayat latest song Gangster Guriya and Katrina Kaif's Husun Parcham from Zero . pic.twitter.com/HRRULmUsxM

— junaid khan (@junaidkhan301) June 19, 2019


As far as the tune of the song is concerned, it is not as catchy as the other two songs of Baaji that released earlier, Badlaan and Khilti Kali.

Visually, a lot is happening in the song and for you to get a hang of the lyrics, you have to listen to it at least thrice. However, Hayat's matchless energy is enough to keep audiences hooked throughout the song.




You can watch the full video song here:



Baaji is a Pakistani-thriller that will mark as a comeback film of actor Meera, directed by Saqib Malik. The film stars Amna Ilyas, Ali Kazmi and Mohsin Abbas Haider.

The film will play in cinemas on June 28.

Have something to add to the story? Share in the comments below.