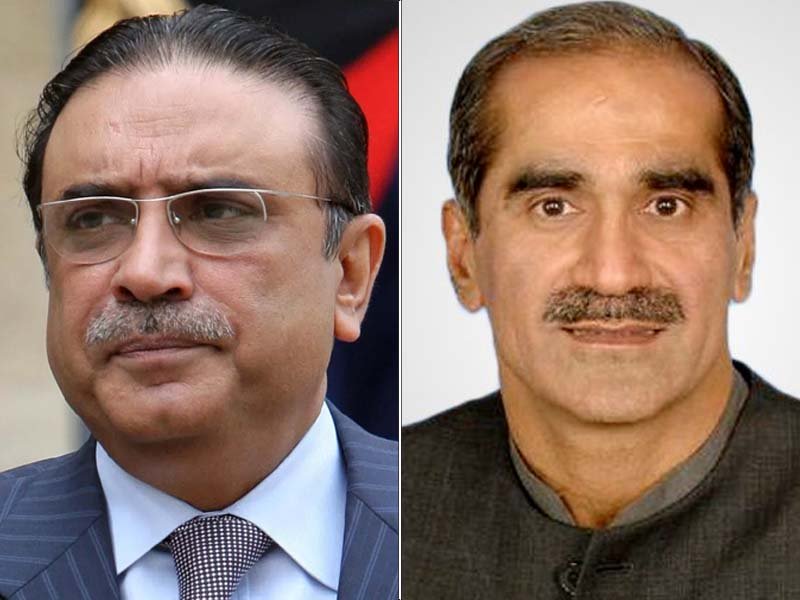 ---
ISLAMABAD: National Assembly Speaker Asad Qaiser late on Wednesday night issued production orders for incarcerated opposition leaders – Pakistan People Party (PPP) co-chairman Asif Ali Zardari and Pakistan Muslim League-Nawaz (PML-N) stalwart Khawaja Saad Rafique – paving way for them to attend the ongoing budget session in the lower house of parliament.

Both leaders were arrested by the National Accountability Bureau (NAB) in separate corruption cases.

Senior PPP leader Syed Khursheed Shah confirmed the development, saying the speaker personally informed him of the move. "Better late than never," he remarked.

The production orders were handed over to PPP leaders Shazia Marri, Qadir Patel, Shagufta Jumani and Agha Rafiullah, who were all in attendance at the National Assembly Secretariat for the same.

Opposition rejects PTI's first federal budget

The production orders were issued under rule 108 of Rules of Procedure and Conduct of Business in National Assembly 2007.  The ongoing budget session will continue till June 29.

"Now Asif Zardari will attend the National Assembly in the morning [Thursday]," a jubilant-looking Khursheed Shah told the media.

Earlier in the day, opposition parties rejected the Pakistan Tehreek-e-Insaf (PTI) government's budget with Leader of the Opposition Shehbaz Sharif, urging the ruling party to implement changes that could alleviate the problems of the country's masses.

Bilawal, Shehbaz urge NA speaker to issue production orders for four lawmakers

In an hours-long speech that marked the end of a week of ruckus in the lower house, Shehbaz said the 2019-20 budget would place a massive burden on the common man.

On Tuesday, Shehbaz and PPP chairman Bilawal Bhutto Zardari agreed on a joint strategy to prevent the government from passing the budget for the new fiscal year in its present form and constituted a committee of opposition lawmakers for this purpose.

Bilawal 'appreciates' MQM-P demanding Zardari's production orders

They also accused the government of resorting to dirty tactics to have the budget passed, noting that the opposition leader in the National Assembly was not even allowed to speak in the house.

Bilawal said the production orders of his father, Rafique, Mohsin Dawar and Ali Wazir were not being issued to prevent them from voting on the budget.