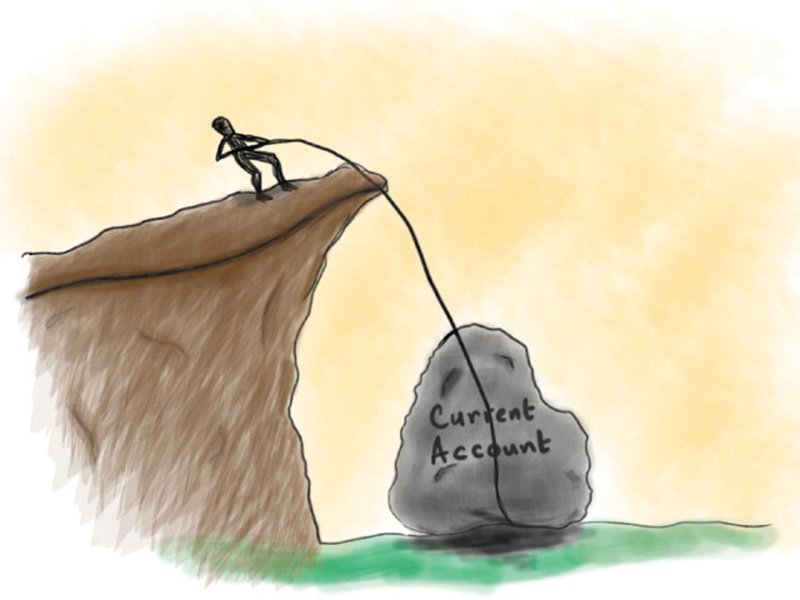 ---
KARACHI: The current account deficit, one of the two biggest challenges in Pakistan's economy, has narrowed 29% to $12.68 billion in the first 11 months of outgoing fiscal year 2019 mainly due to contraction in imports and growth in remittance inflows.

The deficit stood at $17.92 billion in the same period of last year, the State Bank of Pakistan (SBP) reported on Wednesday.

Earlier in the week, SBP Governor Dr Reza Baqir said that the current account deficit has remained one of the two biggest challenges for the economy. However, it has contracted significantly due to successful implementation of economic plans by Pakistan's economic team, he added.

"The drop in the deficit is seen due to a notable drop in imports and volumetric (not in value term) growth in exports…following the rupee depreciation against the US dollar," he said at his first news conference on Monday.

Pakistan's current account deficit contracts 29.5% to $9.6b

He anticipated the deficit for the full fiscal year 2019 at $13 billion compared to a record high of $19 billion in the preceding fiscal year.

"Had the petroleum prices not hiked in international markets, the current account deficit would have dropped to $10 billion in FY19 instead of the estimated $13 billion," he said. SBP Chief Economic Dr Saeed Ahmed, who was accompanying the governor, added that average oil price have increased by 12% to $70 per barrel during the outgoing fiscal year.

"If hike in oil prices had not taken place, then imports would have dropped further by an additional $2 billion and exports would have risen by an extra $1 billion," he said.

Baqir said the drop in current account deficit was a combination of contraction in import of oil goods, which account for around one-fourth of the cumulative annual import bill, and non-oil goods. "The share of non-oil imports in contraction in the current account deficit stands at 30%," he said.

The central bank data showed a major drop in imports in services sector, which decreased by 14% to $8.83 billion in the 11 months under question compared to $10.33 billion in the same period of last year. The import of goods fell 6% to $48.45 billion compared to $51.47 billion.

Secondly, remittances sent home by overseas Pakistanis increased 10% to $20.19 billion in 11-month period compared to $18.29 billion in the corresponding period of last year.

The growth in remittance inflows was seen after overseas Pakistani dispatched huge amounts to their families to cope with high inflation during Ramazan and Eid festival, said a banker at a state-owned bank.

Current account deficit contracts 27% to $11.58b

However, exports failed to register growth in value terms despite the central bank letting the rupee depreciate by a massive 29%, or Rs35.47, to Rs156.96 to the US dollar since the beginning of fiscal year 2019. Exports dropped 2% to $22.34 billion in the first 11 months compared to $22.75 billion in the same period last year.

Deficit drops 47% in May

The current account deficit plunged to almost half at $1.09 billion in the single month of May 2019 compared to $2.06 billion in the same month last year.

The massive decrease was seen mainly due to 14% drop in import of goods to $4.43 billion and 28% growth in remittances to $2.31 billion in May compared to import of $5.17 billion and remittances of $1.80 billion in the same month last year, according to SBP. 

Published in The Express Tribune, June 20th, 2019.

Like Business on Facebook, follow @TribuneBiz on Twitter to stay informed and join in the conversation.