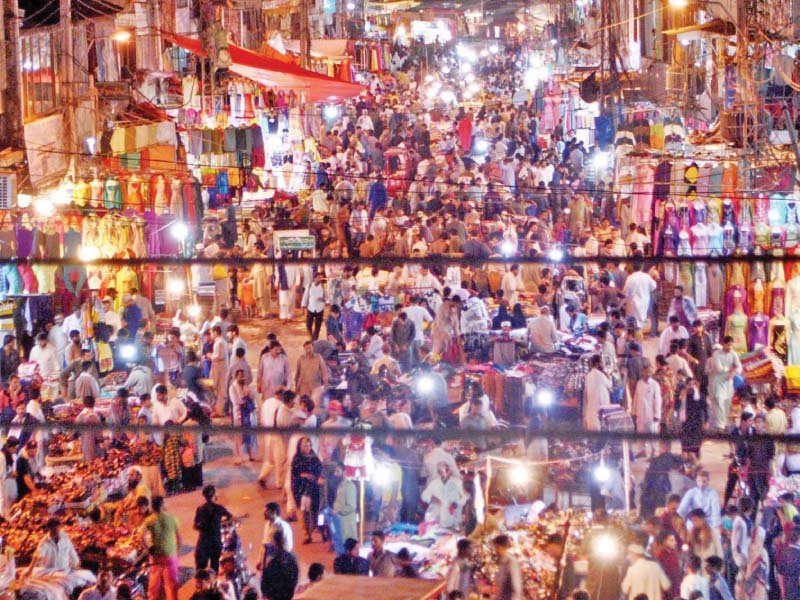 ---
RAWALPINDI: As the Eid festival is coming nearer, a large number of citizens particularly females and children thronging busy markets and commercial plazas of the city to purchase required items for Eidul Fitr.

Eid shopping is gaining momentum as great rush of people is being witnessed in various markets and bazaars of the city. Nowadays, particularly females and children are busy in buying bangles, henna, clothes, cosmetics, foot wears and other items for the festival.

Everyone try to celebrate Eidul Fitr, one of the biggest religious festivals celebrated after Ramadan with zeal and fervor and maximum arrangements are made in this regard.

Large number of people throng markets and shopping centres, especially after Iftar, to purchase clothes, accessories, jewellery, shoes and other items. Some of them are also buying other items like new furniture and decorative items for their homes.

Although there are many who have confined themselves to window shopping only, others who can afford seem not really happy with the price hike. But they still continue to shop.

The shopkeepers said that the Eid shopping has started to gather momentum. Even in the mid of the holy month, some tailors had stopped taking orders that was creating hassle for the customers and forcing them to buy ready-made material, they added.

A tailor Aslam said that he along with his assistants were working 20 hours, seven days to complete all the orders before the end of Ramazan.

Waqar, a student informed that his family start shopping at the eleventh hour since the festivity reach at its peak at the end of Ramadan.

He said nothing could stop people from shopping for Eid, not even the ever increasing prices.

"The shopkeepers are aware that Eid shopping is must; therefore they demand high prices to keep their margin while people have no other choice but to purchase even on double rates," he added.

He said that most of the people visited markets after Iftar as weather turned pleasant at night time. But this leads to overcrowding on roads and markets, he said and added, moreover the mismanagement and little presence of traffic personnel at markets cause massive traffic jams creating problems for the people.

Nowadays, the eager shoppers are roaming various markets and trying to purchase best items and gifts either for themselves or for their family members, friend and relatives.

For the traders, it is best time to make money. They are very optimistic as the shoppers' presence is increasing day by day and will reach on its peak on 'Chand Raat'.

Meanwhile, police claimed to have made foolproof security arrangements for the protection of the people at various shopping centres, markets and public places.

To ensure security of the women, lady police have also been deployed in various busy shopping malls at Saddar Bazaar, Raja Bazaar, Moti Bazaar, Commercial Market, Lalkurti and other busy markets of the city.

According to police security plan, Law enforcers have been deployed in plain clothes at various sensitive areas and close circuit cameras are working in different busy bazaars, parks and other public places.

City Traffic Police have also finalized a traffic plan to avoid traffic mess and other problems on roads due to great rush of people in markets and bazaars.

Published in The Express Tribune, June 1st, 2019.