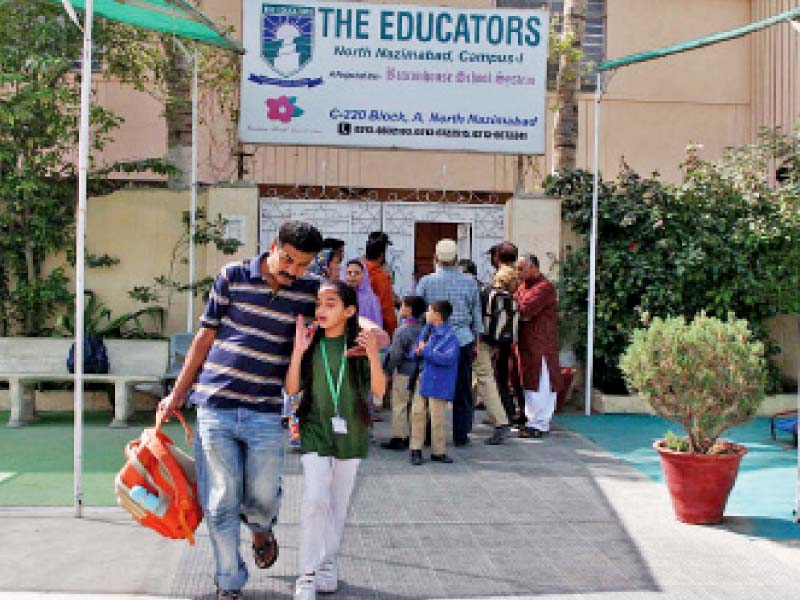 ---
KARACHI: The parents of students enrolled in The Educators Progressive School, in Nazimabad No. 4, staged a sit-in in front of the school, registering their protest against the announcement made by the school owner that it would be shut down.

The school owner, Ali Khursheed Mustafa, made this announcement citing financial difficulties and losing a case filed against the school in the court.

He said that a case was filed against the school over its name, which he has lost, and could no longer run the school for this reason.

However, he clarified that the school would only be closed down on temporary basis and he intends to hand it over to someone else to run it under a different name.

"They [parents] have misinterpreted the announcement, guessing that the school will shut down permanently," said Mustafa, adding that "I have signed bond papers assuring them that I will continue to run the school for the next one year, after which I will hand it over to someone else."

According to Mustafa, he wanted to inform the parents timely of this development.

Being informed of Mustafa's decision, parents circled him in protest and demanded he return the amount they had paid on account of two-month advance fee.

They said that they could not let the owner get off scot-free and that the future of their children was at stake since admissions at other schools had closed. They circled Mustafa for six hours and agreed to end the protest when the owner assured them that the fee paid in advance would be returned to them.

Additionally, he also assured the parents that the students would be transferred to other schools without having to pay any admission fee.

He said that he was ready to assist those willing to enroll their children in another school without paying any admission fee, adding that he would also issue transfer certificates for the students if required.

Responding to a question, Mustafa said that he is unable to run the school in the face of financial difficulties and does not have the means to pay salaries and bear other school expenses. "I also need to resolve matters with Sindh Building Control Authority and will have to vacate the school building soon, which is on rent," he added.

Approximately, 450 students are enrolled in The Educators Progressive School and if it closes down, an academic year of all these students would be wasted.

Published in The Express Tribune, May 19th, 2019.