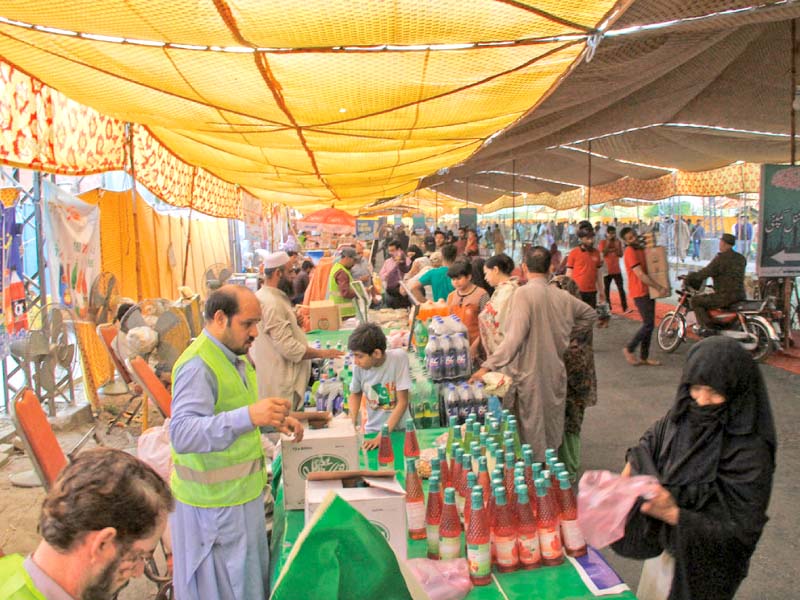 ---
LAHORE: Just days after announcing special subsidies on foodstuff in Ramazan markets, market committees have run out of funds to maintain the same.

Due to the increasing demand for lemons, onions, and tomatoes and low supplies, the government has started unannounced rationing of these items. Each consumer will be limited to purchasing one kg of tomatoes, one kg of onions and 250 grammes of lemon at a time, leading to public outcry.

Sources said the government imposed large subsidies while overestimating supplies. They said it was a political move, which did not consider the ground realities of supply, and has ended up causing hardships to buyers.

Ramazan security arrangements reviewed in Punjab

In the open market, lemons are selling for Rs500 per kg, while the government approved price is Rs350 per kg. The market committee is giving a Rs210 subsidy and selling them for Rs140 per kg at the sasta bazaars. Similarly, on onions, the government has given a Rs25 subsidy, while on tomatoes, it has given a Rs20 per kg subsidy, but limited buyers to 1kg of each.

Shoppers at one bazaar said if the government had to give such a high subsidy, then it should have also ensured supply. Many have complained that the effort of getting to the busy markets and then navigating their way through is not worth it. Ramazan market staffers have also been on the receiving end of harsh words from consumers.

On the other hand, the market committees face an acute shortage of funds. The Lahore deputy commissioner had allocated Rs4 million per market for the committees, but 30% of the total funds have already been spent in the first three days of Ramazan.

Sources in the Punjab agriculture department, requesting anonymity, say providing such a high subsidy on lemons is not a good idea. Currently, domestic lemons from the Sindh areas of Nawabshah and Kandoyar make up the vast majority of the available supply across the country. This has caused an overall lemon shortage.

He said it would have been more feasible to give a Rs50 subsidy instead of Rs200, mainly to avoid rationing in Ramazan markets.

Agriculture department officials have said that the Punjab government has set aside Rs500 million as funds for market committees' fair price shops in Punjab, of which Rs167 million had been designated for Lahore. However, individual deputy commissioners are managing the funds differently in every district.

LWMC vows to keep it clean in Ramazan

Speaking to Express, Punjab Industries Minister Mian Aslam Iqbal highlights that the top priority of his government is to provide the maximum relief to people and that is the reason it went forward with high subsidies in the holy month.

"The government allocated abundant funds for subsidies in Ramazan markets and there will be no issue," he says. At the same time, the minister admits that the demand for a few individual items is high. "We have been told about it and have directed the agriculture department to ensure increased supply of these products to the markets," he adds.

Iqbal continues that the government has decided that if necessary, more funds will be set aside to cover the subsidy. Meanwhile, the markets will be converted into Eid bazaars from Ramazan 21 to Ramazan 30 and other items, used in homes during Eid days, will also be sold at subsidised rates.

Published in The Express Tribune, May 10th, 2019.