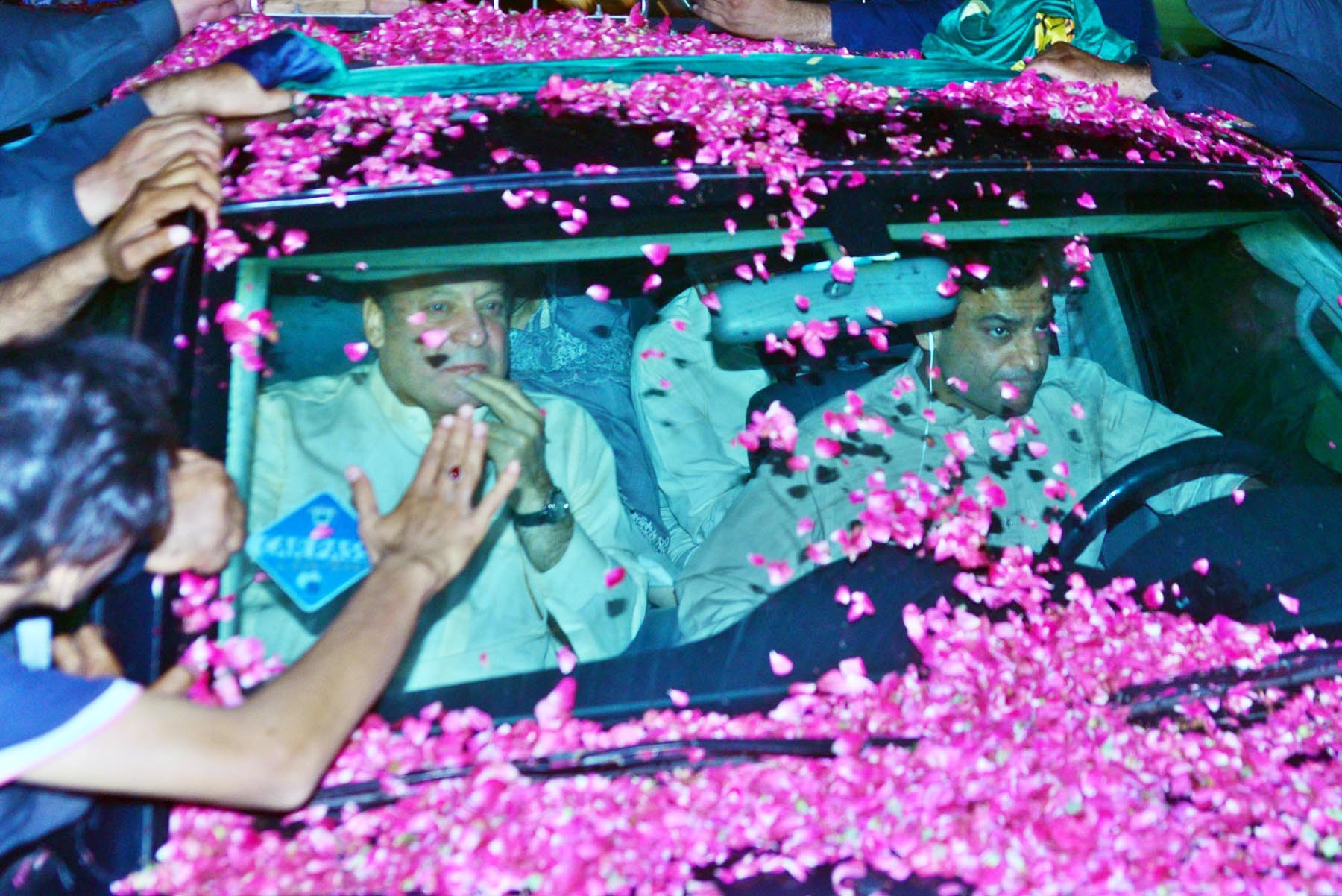 ---
Former prime minister Nawaz Sharif was shifted back to Kot Lakhpat jail late on Tuesday night after his six weeks bail expired.

Hordes of Pakistan Muslim League-Nawaz (PML-N) party workers rallied as the former premier left Jati Umra for the Lahore's Kot Lakhpat jail.


Took us four hours to reach Kotlakhpat from Raiwind which is hardly 30 mins drive.. Now at the entrance. Thank you Lahore ♥️🤲🏼

— Maryam Nawaz Sharif (@MaryamNSharif) May 7, 2019


In his video message before surrendering to the jail authorities, Nawaz Sharif thanked his party workers for their show of solidarity.

"I thank the people of Lahore for their overwhelming support and for taking to the streets for me," he said adding that he was sure that their efforts will pay off.

Nawaz further said that the masses knew why he was being punished.

https://twitter.com/MaryamNSharif/status/1125839714928472066

Nawaz's daughter Maryam Nawaz also posted a video on Twitter showing a large number of party workers and supporters gathered outside the Jati Umra residence.


Raiwind gate ....... pic.twitter.com/mUmwAHdupv

— Maryam Nawaz Sharif (@MaryamNSharif) May 7, 2019


Hamza Shehbaz, one of the 15 vice presidents of the PML-N, drove the disqualified premier to the Lahore jail.


قائد نوازشریف سے اظہار یکجہتی کیلیے لیگی کارکنان کی کثیر تعداد جاتی امرا کے باہر موجود#جھکا_نہیں_نوازشریف pic.twitter.com/jzbDeRTMVe

— PML(N) (@pmln_org) May 7, 2019


The Supreme Court on May 3 had dismissed the Pakistan Muslim League-Nawaz (PML-N) supremo's review petition seeking permanent bail on medical grounds and the permission to go abroad for treatment.

On March 26, he was granted six weeks bail on medical grounds.

Stringent security measures were in place at the Nawaz's residence when Kot Lakhpat officials, headed by Superintendent jail Shehzad, reached there.

An accountability court in December last year sentenced the three-time premier to seven-year rigorous imprisonment after it found him guilty in Al-Azizia reference, one of the three graft cases filed by the National Accountability Bureau (NAB) in line with the Supreme Court order.

Nawaz, later on April 27, requested the apex court to grant him 'permanent bail' on the basis of his fresh medical report which revealed that Nawaz continues to suffer from acute anxiety and depression that will lead to 'sudden death'.

The Pakistan Muslim League-Nawaz (PML-N) leader has also requested the SC to allow him to go abroad for medical treatment.

PML-N power show

The party put together a huge procession to accompany Nawaz Sharif to Kot Lakhpat.

Scores of party workers took to the street to express solidarity with Nawaz Sharif. The former premier was accompanied by his daughter Maryam Nawaz and nephew and Punjab Assembly Opposition Leader Hamza Shehbaz.


لاہور کس کا؟ نواز کا! pic.twitter.com/Ry5zO5J7ti

— PML(N) (@pmln_org) May 7, 2019


Commenting on PML-N leader Nawaz Sharif's return to jail, Special Assistant to Prime Minister on Information and Broadcasting Dr Firdous Ashiq Awan said it was unfortunate that a convicted person was going back to jail with such pomp and show by his party.

She said in civilized societies convicted persons were not glorified, adding that glorifying the convicted person tantamount to committing the same crime.

"Nawaz Sharif is a convict and not an accused," she said adding that as a convict Nawaz Sharif was violating all rules and laws of the jail manual.