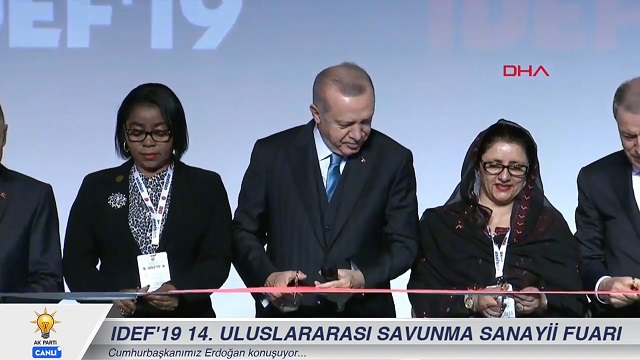 ---
Federal Minister for Defence Production Zubaida Jalal on Thursday inaugurated the opening session of the International Defence Industry Fair 2019 being held in Turkey.

Jalal inaugurated the session along with Turkish President Recep Tayyip Erdoğan. IDEF 2019 is being hosted by Turkey's Ministry of National Defense from April 30 till May 3.

IDEF 2019 hosts 1,061 participant companies and their representatives, 150 delegations and 550 delegation members active in the defence field from 70 countries and three international organisations.

Istanbul arms expo: Pakistan seeks defence production deals

Over 4,000 meetings are scheduled to take place during the fair which hosts 15 ministers, 13 chiefs of general staff, 16 deputy minister, five deputy chiefs of staff, 10 force commanders, 13 under-secretaries and two chiefs of general directorate of security, and many civil and military procurement authorities.

Besides the products and services which are on display at the fair center, maritime components are on display at the West İstanbul Marina. The fair will be visited by defence industry professionals till May 3, 2019.


COMMENTS
Comments are moderated and generally will be posted if they are on-topic and not abusive.
For more information, please see our Comments FAQ