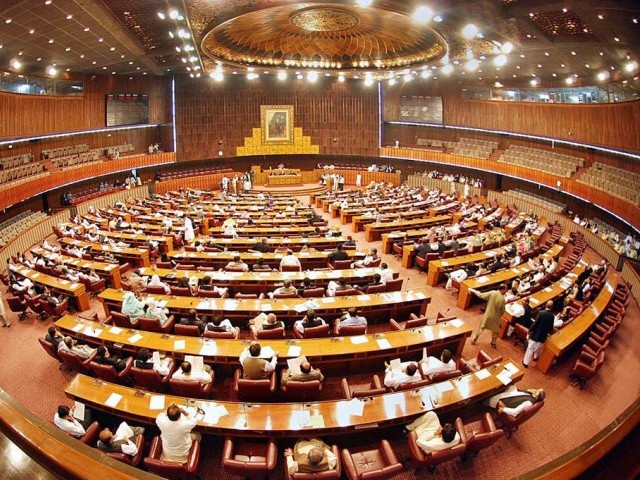 ---
ISLAMABAD: The National Assembly on Wednesday was informed that the imports have witnessed a decline of $3.5 billion over the past 10 months.

"The government has enhanced regulatory duty on finished products and as a result of which the imports have witnessed reduction of $3.5 billion over the past 9-10 months," Adviser to Prime Minister on Commerce Razak Dawood informed the lower house of parliament during the question hour.

"We also aim to bolster our exports which will help us reduce the trade deficit," he added.

Dawood said that China has agreed to provide Pakistan market access on the pattern of Association of South East Asian Nations (Asean), which will be beneficial for Pakistan.

The adviser revealed that a new textile policy is being formulated to boost exports of textile related items. "The policy will take into account all the different aspects of textile industry and will come up with cogent proposals for the problems faced by the industry."

Also, Foreign Minister Shah Mehmood Qureshi, in a written reply, informed the National Assembly that there were 3,400 Pakistani prisoners languishing in jails in Saudi Arabia.

"The Pakistani embassy is busy securing the release of 2,107 prisoners," he added.

"Crown Prince Mohammad bin Salman announced release of Pakistani prisoners in his recent visit to Pakistan. We have sought lists from the Saudi authorities which is still awaited," the minister said in his written statement.

Responding to a question about the Jinnah House in Mumbai, the foreign minister said Pakistan has raised the issue time and again with New Delhi, but India never gave a positive response to the Pakistani moves.

Minister of State for Parliamentary Affairs Ali Muhammad Khan said the federal government in consultation with the relevant stakeholders, has chalked out a comprehensive plan to streamline the integration process of tribal districts.

Parliamentary Secretary for Overseas Pakistanis Javaria Zafar told the house that a policy is being finalised for promotion of overseas employment. She said Pakistan has signed MoUs in the fields of manpower and employment with Qatar, Bahrain, UAE, Oman and Malaysia.

"Efforts are being made to sign the MoUs with Saudi Arabia, Azerbaijan and other potential labour receiving countries," she added. "A special task force has also been constituted to work towards the welfare of expatriate Pakistanis."

NA panel to seek 10-15% import duty on cotton

And responding to a call-attention notice, minister of state for parliamentary affairs said that National Disaster Management Authority (NDMA) has provided relief assistance of over Rs204 million to the people affected by the recent floods in Balochistan.

Parliamentary Secretary for Commerce Shandana Gulzar Khan informed the house that Pakistan's exports to India shrunk significantly after the imposition of 200% duties on Pakistani products by the Indian government following the Pulwama incident.

She added that 98% of dried dates were exported to India but it was affected by enhanced Indian duties. "We are exploring other markets to export our dates," she said. "We have also increased duties on certain Indian products."

During the proceedings, Human Rights Minister Shireen Mazari moved The Zainab Alert, Response and Recovery Bill, 2019 to make provisions for raising alert, response and recovery of missing and abducted children.