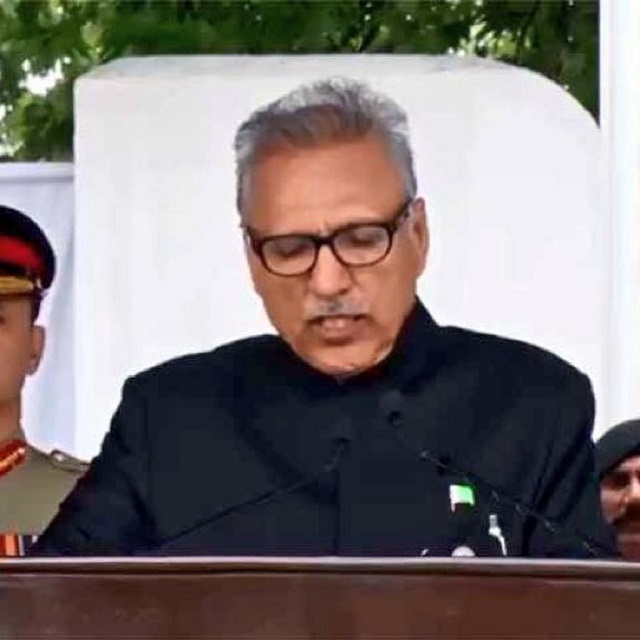 ---
QUETTA:

Five days after the suicide attack in which 21 people, mostly Hazaras, were martyred, President Dr Arif Alvi reached Quetta to offer his condolences.
"The state is responsible for the protection of its citizens," said the president while condoling with the families of the martyred at an Imambargah at Hazara Town on Tuesday.
Dr Alvi was accompanied by Balochistan Chief Minister Jam Kamal Khan, Governor Amanullah Khan Yasinzai, Home Minister Zia Langove and government officials.
The president assured the Hazara community of full protection.
"We will not compromise on the law and order situation in Balochistan," said Alvi. "The federal government is standing with the Balochistan government in this difficult time and always will in order to protect all nations living in the province."

Hazara community's Quetta sit-in enters second day

He said that he had come to share the grief of the families who had lost their loved ones in the Hazar Ganji suicide blast.
"The state will not allow anyone to disturb the law and order situation in Balochistan," said Alvi, adding that Prime Minister Imran Khan would visit Quetta in the next one or two days to meet the heirs of the Hazar Ganji blast victims.
He vowed to take the perpetrators behind the heinous attack to task.
The president said, "The federal government is with the provincial government in order to maintain the law and order situation in Balochistan. We will provide all the necessary resources to the provincial government to combat terrorism."
The president assured the grieving families that the National Action plan was being implemented in full spirit.
Hazaras continue sit-in for third day

"Hate among nations is like a disease which eradicates entire countries. Fortunately, our Constitution entails securing the rights of all minorities living in Pakistan," said Alvi.
Last Friday, a suicide bomber detonated his vest laden with explosives at a vegetable market at Hazar Ganji, martyring 21 people, including 10 Hazara community members and two Frontier Corps personnel.
Since then, the Hazaras had staged a sit-in on the Western Bypass demanding implementation of the National Action Plan and arrest of the perpetrators.
However, late on Monday, they called off their sit-in on the assurances of the chief minister that justice would be served.
CM Kamal was accompanied by State Minister for Interior Shehryar Khan Afridi and National Assembly Deputy Speaker Qasim Suri.