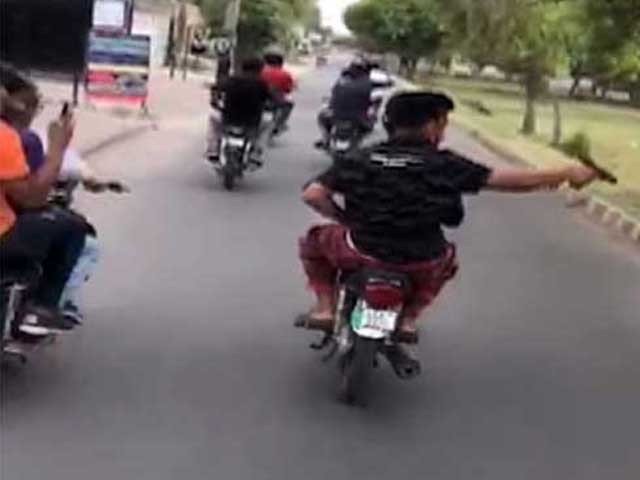 ---
751 Group – a gang of motorcycle riders in Lahore – resorted to aerial firing in the city's Mustafa Town, spreading panic among citizens on Monday.

A video of the whole episode, most likely filmed by a member of the notorious gang, has also gone viral on social media, in which pillion riding youths can be seen using 9mm pistols for aerial firing while chanting slogans with euphoric sense of freedom.

No action could be taken against the culprits despite several Safe City project cameras installed in the area. However, police have formed a probe team to bring those involved to book after registering a complaint over the incident.

Rash driving cutting young lives short in Lahore

The gang is also involved in reckless driving and one-wheeling, which they considered as game of pride.

Worryingly, youth casualties are increasingly becoming commonplace in road traffic accidents. Data compiled by the Punjab Emergency Service (Rescue 1122) shows that at least 81,500 people, aged between 11 and 30, have fallen victim to such incidents in the last three years of 2016, 2017 and 2018. Out of a total of 183,870 victims during this time period, 33,010 were between 11 and 20 years of age and 48,490 between 20 and 30.