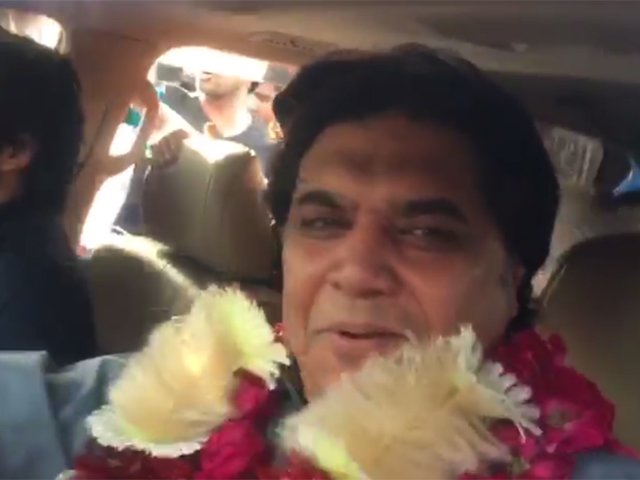 ---
Two days after the Lahore High Court (LHC) suspended Hanif Abbasi's life sentence in the ephedrine quota case, the Pakistan Muslim League-Nawaz (PML-N) leader was released from Camp jail in Lahore on Saturday.

A large number of party workers and supporters had gathered outside the prison to welcome their leader on his release. They showered rose petals and chanted slogans in his and the party leadership's favour, Express News reported.

The high court had accepted Abbasi's bail plea on April 11. However, the certificate for his release could only be issued today after verification on receiving two surety bonds worth Rs5 million each.

On Thursday, a two-member bench, headed by Justice Aalia Neelum, accepted the PML-N's petition filed in January in which he maintained that the jail term and a fine of Rs10 million handed down to him last year should be suspended.

Hanif Abbasi gets relief from LHC

Abbasi's counsel told the court that his client was falsely accused of selling 500kg of ephedrine to narcotics smugglers. He added that the case was filed in 2010 on the basis of political victimisation.

The bench, after hearing the arguments from both sides, accepted Abbasi's petition, but announced that the hearing of the case would continue.

Abbasi was convicted just four days ahead of the general elections last year by an anti-narcotics court for selling 500kg of the controlled chemical ephedrine. Seven other accused in the case were acquitted on the basis of "benefit of doubt".

His conviction had disqualified from contesting for the NA-60 constituency against Awami Muslim League leader Sheikh Rashid.

The case involved illegal allocation of ephedrine quotas worth Rs7 billion to two pharmaceutical companies — Berlex Lab International and Danas Pharmaceutical. Other than Abbasi, Ali Musa Gilani — son of former premier Yousuf Raza Gilani, and former health minister

On September 22 last year, the convicted PML-N leader was moved to Attock Jail following a controversy over a 'leaked' photo of him lounging with former prime minister Nawaz Sharif in Adiala jail.


COMMENTS
Comments are moderated and generally will be posted if they are on-topic and not abusive.
For more information, please see our Comments FAQ