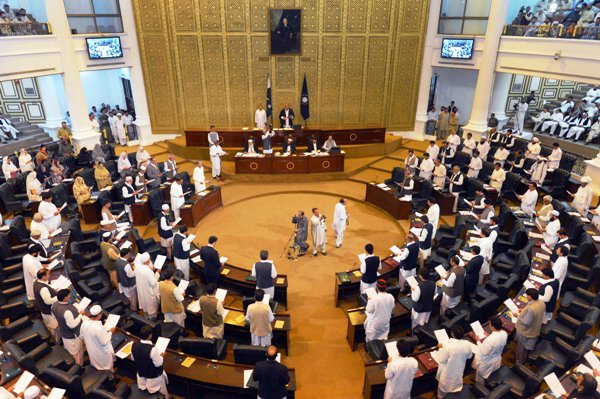 ---
PESHAWAR: There was an uproar in Khyber-Pakhtunkhwa Assembly over drawing a comparison between PM Imran Khan and people who led to the East Pakistan debacle.

"PM Imran keeps saying, my friends don't worry, mind you these historic words had cost us East Pakistan in 1971," PPP lawmaker Ahmed Kundi said, though without mentioning who used to say it.

However, there was an uproar from the treasury benches over his remark forcing Speaker Mahmood Ghani to adjourn the session till Friday.

At the onset of the session, the opposition benches lashed out at the financial performance of the PTI led government in centre and province.

The leader of Opposition Akram Khan Durrani blamed the federal and provincial governments for record inflation in the country.

"Prime Minister Imran Khan says the country is facing the worst economic situation, his Finance Minister Asad Umar says there is more to come, but Federal Minister Faisal Wawda is saying that a flood of jobs is coming, who is right?" he said.

The incompetency at central level has allowed the dollar to soar to Rs145 and might even touch Rs200 level, Durrani said.

While targeting the provincial government Akram Khan Durrani stated that the provincial government doesn't have the capacity to take the net hydel profit from the federal government.

PML-N parliamentary party leader Sardar Yousaf Nalota said that owing to an unskilled finance minister, millions of people would lose jobs in the coming days, while already many have been rendered unemployed due to the bad condition of the economy.

Treasury lawmaker Shah Muhammad Wazir said the government members were bearing the criticism of opposition benches for the last eight months when Imran Khan became PM there was $14 billion loans and $6 billion interest outstanding against the country, "did we take all these loans," he said.

The opposition may rest assured that the country was not getting bankrupt, only the corrupt past rulers were facing a trial of NAB.

Meanwhile, the women lawmakers staged a walkout from the assembly as a protest after the CM adviser on Education Ziaullah Bangash mentioned them as unelected members of the house. So much so the adviser called for the abolition of the women reserved seats.

These remarks infuriated the women MPAs especially Nighat Orakzai of the PPP who on a point of the order complained that only elected members of the house were given respect and honour over the members elected against reserved seats.

Published in The Express Tribune, April 10th, 2019.
COMMENTS
Comments are moderated and generally will be posted if they are on-topic and not abusive.
For more information, please see our Comments FAQ