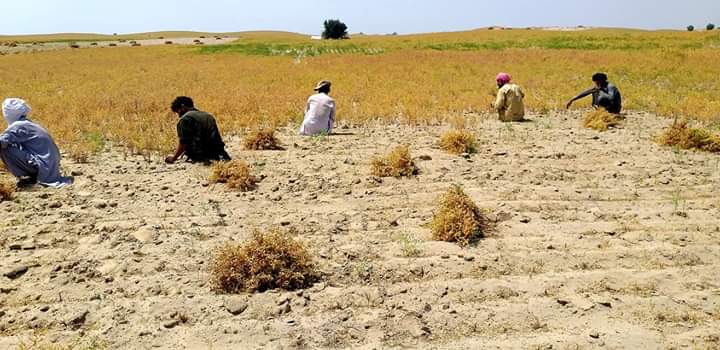 ---
BHAKKAR:

After eight years, the harvesting of the gram crop started on time due to prompt rainfall. Farmers were now expecting a bumper crop in 2019.

Mankera, one of the three tehsils of Bhakkar, is the largest in Punjab in terms of area. Most of the population depends solely on the gram crop.

Gram is one of the biggest crops and is completely dependent on rain. This year, farmers are pleased as they will be able to export gram after fulfilling the requirements of the country. The crops cultivated include white, red and black grams.

Deputy Commissioner Captain (Retd) Waqas Rasheed told The Express Tribune that as many as five sacks can be filled from an acre of land this year. Therefore, about five million gram sacks are likely in the district Bhakkar, according to the Punjab Agriculture Department.

Rasheed said that the gram crop is sown in October and in April, its harvesting phase begins. Farmers of Thal were facing a lot of problems due to no rainfall in the district Bhakkar for almost eight years, but this year they expect a bumper gram crop.

The gram of three tehsils of Bhakkar, including Mankera, Chaubara, and Noorpur, is good in terms of nutrition, taste and quality as it is prepared through a natural process and without any spray or fertiliser.

Thal farmer Ihsan Akhtar said that he is dependent on gram crop throughout the year. "The harvesting process has started and now I will get the fruits of my labour." Since farmers of Thal are financially dependent on the gram crop, landowner Malik Ansar Iqbal Cheena, who represents farmers in Bhakkar, has demanded that the government purchase the crop directly from farmers.


COMMENTS
Comments are moderated and generally will be posted if they are on-topic and not abusive.
For more information, please see our Comments FAQ