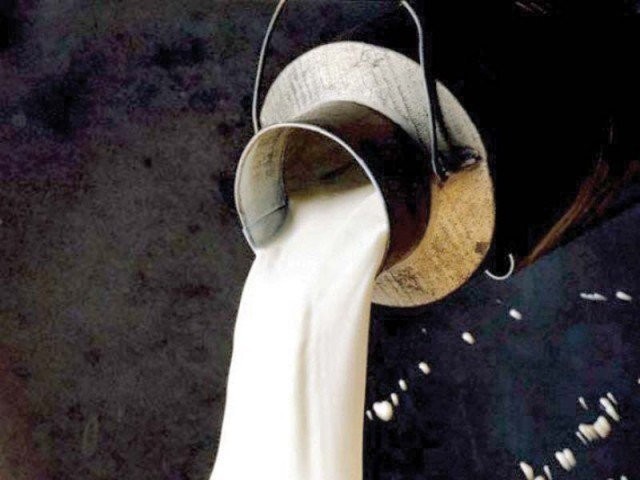 ---
LAHORE: As much as 70 per cent of loose milk sold in urban Punjab contains traces of harmful chemicals and bacteria, a report submitted by provincial authorities to Prime Minister Imran Khan has revealed.

Of the 601 samples of loose milk collected from Lahore, Multan, Faisalabad, Bahawalpur, Gujranwala and Rawalpindi, 422 were deemed unfit for consumption upon testing and found to contain traces of harmful chemical compounds like formaldehyde, ammonium sulphate, hydrogen peroxide, urea and others found in detergents. Formaldehyde, in particular, can cause stomach and heart problems and even blindness if ingested.  The water used to increase the volume of loose milk was also found to contain traces of various germs and bacteria, including coliforms, and chemical and organic pollutants.

According to the report presented to the prime minister, the 'adulteration mafia' is also selling artificial powdered milk smuggled from Iran to meet the demand for milk in the cities, sources said. According to them, he was told that the mafia prepares milk by using a laundry washing machine to mix this powder, sold for Rs14 to Rs15, ghee and water. This artificial loose milk costs Rs18 per kg to make but is sold for Rs45 per kg to wholesalers, who in turn jack up the price to Rs75 per kg for consumers, the sources added.

Prime Minister Imran sought the report after being alerted by senior health experts and some parliamentarians of the health risks posed by adulterated loose milk being sold in the country's most populous province, sources told The Express Tribune. Upon reviewing the report, the premier directed senior Pakistan Tehreek-e-Insaf (PTI) leader Jahangir Tareen to collaborate with Punjab authorities on a pasteurisation policy inspired by the one used in Turkey.

Turkey made pasteurisation of milk mandatory in 1995 and banned sale of loose milk in 2008. To support enforcement of these laws, it made investments in public sector milk production and provide concessions to private sector milk producers. The steps resulted in a 90% increase in Turkey's milk and milk by-product exports.

The Punjab government intends to follow this model to curb adulteration of milk. A committee comprising Tareen, the Punjab food minister, the provincial food, livestock, finance, transport and industry secretaries, and the Punjab Food Authority director general will collaborate with industry stakeholders to devise a comprehensive pasteurisation policy which will eventually result in a ban on sale of loose milk in the province, sources said.

Some aspects of the policy being considered including labeling pasteurised milk in accordance with Punjab Pure Food Regulations 2018 and keeping pasteurised milk at 6 degrees Celsius till it reaches consumers. According to sources, the milk industry will be allowed a five-year business adjustment period once the new policy comes in force.

According to government research, Pakistan's milk industry produces 54 billion litres every year but only 10 per cent is sold in packaged form. Most milk is loaded into barrels with water and ice immediately after being obtained from buffaloes and supplied to cities via heavy road vehicles.

Nutrition experts warn that milk obtains from buffaloes is quick to spoil unless it is boiled to a certain temperature and allowed to cool rapidly.

Meanwhile, testing loose milk to determine whether it is made using powder or not is a costly and difficult procedure. The kit to detect whether milk has been adulterated with water costs Rs300 and can be used multiple times. But a kit for ascertaining whether milk is artificial costs Rs1,700 and can only used once. This is why the Punjab Food Authority (PFA) uses it less often and only on batches of 3,000 to 5,000 litres at a time.

Talking to The Express Tribune, PFA DG Capt (retd) Usman Younis said the Punjab livestock department is also preparing a long term policy to bridge the gap between milk supply and demand. He said PFA has also taken steps to curb adulterated milk production, inspecting 28 dairy production units of Punjab 63 times between 2017 and 2019.

"We issued 38 reform notices and penalties to 13 units, and sealed three of them. We also raided 2,241 milk shops this year, issuing reform notices to 1,755 and sealing 19. Violators were fined Rs972,600 in total," he said.


COMMENTS
Comments are moderated and generally will be posted if they are on-topic and not abusive.
For more information, please see our Comments FAQ