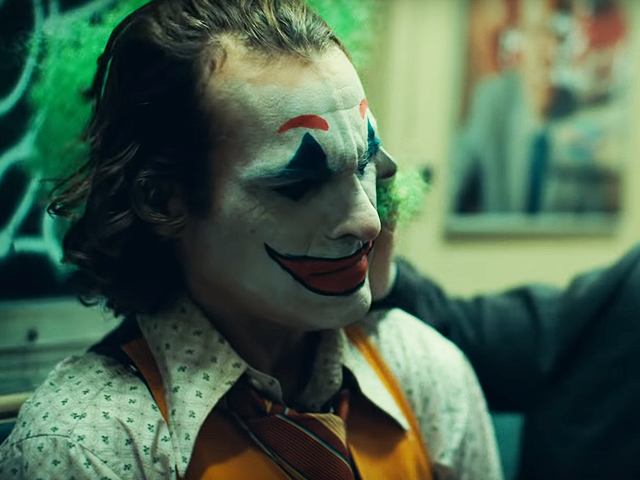 ---
LAS VEGAS: Warner Bros gave fans their first glimpse on Wednesday of the hotly-anticipated origin story for DC Comics' criminal crown prince the Joker - with Joaquin Phoenix as the diabolical figure behind the creepy face paint.

The trailer for Joker dropped a day after the upcoming movie was previewed at the CinemaCon industry convention in Las Vegas, where Warner wowed delegates - mainly movie theatre operators - with an upcoming slate that includes It: Chapter Two, led by Jessica Chastain.




Phoenix's Joker is at least the sixth live-action interpretation of a character made famous by Cesar Romero and Jack Nicholson - and taken up a level by Heath Ledger, who won a posthumous Oscar for the role in 2009.


Director Todd Phillips explores the roots of Gotham's villain, a man beaten down by the world, in what entertainment blog JoBlo called "a really dark and twisted character study."

"Joaquin Phoenix is living in the role and this will no doubt be another inspired and manic performance from him. If you're missing the 'dark' DC, then here's your medicine," it tweeted.




The trailer shows Phoenix as Arthur Fleck before he became an evil-doer: dancing with his mother, working as a street clown and being a victim himself, harassed and assaulted on a subway train.

"My mother always tells me to smile and put on a happy face," he muses. "She told me I had a purpose to bring laughter and joy to the world."

After a group of youths steal the store sign he is holding and smash it in his clown face, he asks: "Is it me or things are getting crazier?"

Only the trademark maniacal cackle presages the darkness that lies ahead.

Twitter is in awe:

https://twitter.com/bxdbyemyg/status/1113577516114022401


thank you #JoaquinPhoenix for this artwork that is your Joker. pic.twitter.com/0RZXPb0kh3

— buzz 📖 sms para você (@sirusbIak) April 2, 2019
I'll be crying in the movie theatre on oct 4 #JoaquinPhoenix pic.twitter.com/gPoViG5r03

— jas⁷ 🌙 (@elpasteldeyingi) April 4, 2019
Looks like #JoaquinPhoenix did some homework.
I seriously loved it!. https://t.co/s2wgi3l5Tr

— MJ Srawanth (@MSrawanth) April 3, 2019
Every once in a while a movie comes out that clearly depicts my state of mind. Time to get obsessed fan boys!#Joker #JoaquinPhoenix pic.twitter.com/Un5hhi7kk6

— Aman (@AnfieldGuy57) April 4, 2019
#JoaquinPhoenix has really nailed it! #JokerMovie #Joker pic.twitter.com/Rq8FFHYmpK

— The Cheshire Cat 🐈 (@caesar_on20) April 4, 2019
Have something to add to the story? Share it in the comments below.