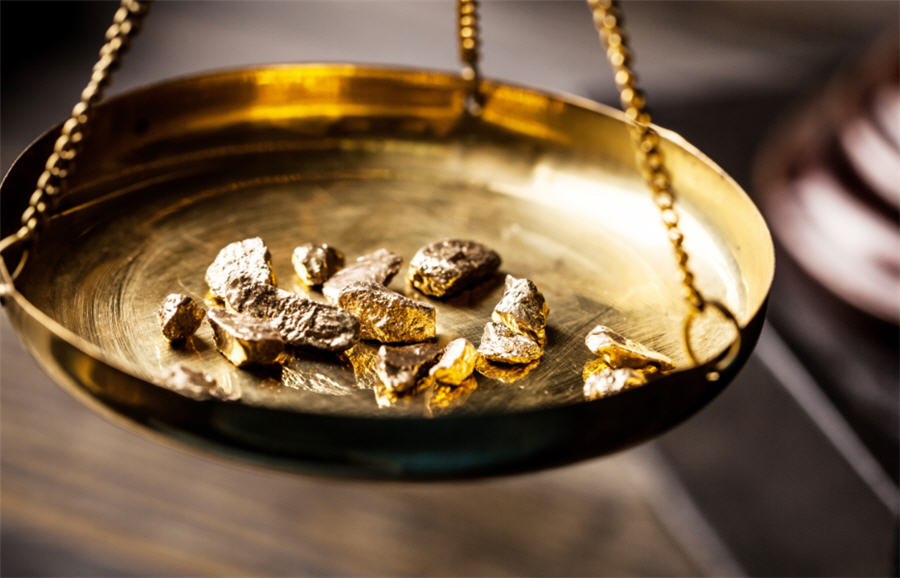 ---
KARACHI: Gold hit a new all-time high at Rs72,200 per tola (11.66 grams) in Pakistan after jewellers included the impact of a fresh drop in the rupee's value in retail price of the precious metal on Wednesday.

All Sindh Saraf and Jewellers Association (ASSJA) announced a hike of Rs1,000 per tola to Rs72,200 following an increase of $3 per ounce (31.10 grams) to $1,294 in the world market.

"The rupee depreciation led to a rise in gold prices in Pakistan despite the fact that it (imported commodity) largely remained stable in global markets," Pakistan Mercantile Exchange (PMEX) Managing Director Ejaz Ali Shah told The Express Tribune.

He pointed out that Pakistan did not produce any gold and met its requirement through imports. Therefore, the adjustment in the gold price was a must to pass on the impact of rupee depreciation.

The State Bank of Pakistan reported that the rupee lost Rs0.30 to Rs141.39 to the greenback in the inter-bank market on Wednesday. With this, the rupee has shed a total of Rs2.55, or 1.8%, in the past four weeks since March 8, 2019.

In line with this, the open market also saw the rupee lose another Rs0.50 to Rs143 against the dollar.

The central bank spokesman said the other day "the rupee is moving downwards on market expectations based on (weak) economic fundamentals."

He agreed that market expectations for the Pakistan-IMF loan deal and outlook on the balance of payments deficit - lower dollar inflows than outflows - were dragging the rupee down.

The PMEX MD added that gold prices in the domestic market had risen in line with rupee deprecation in the last 15 months compared to stable prices in world markets.

Data suggests gold has shot up over 40% in line with 34% depreciation of the rupee in the last 15 months. Contrary to that, gold slightly increased by 2.5% in world markets during that period.

He said gold had emerged as a safe haven for investors during the current inflationary phase across the world.

Since there was no inflationary pressure in the past 15 months at the global level, investors found other commodities like currencies and petroleum crude oil as more attractive investment instruments during the period, hence, gold remained stable.

"Gold has been moving in a band of $1,250-1,350 per ounce in world markets for quite a long time now," he said.

He added that PMEX did not record any unusual growth in trade volumes of gold these days and it was oil which attracted investors' attention.

"Gold and oil come to about 25-30% each of the total trade volumes worth Rs10-15 billion a day at the Pakistan Mercantile Exchange," he said. Beside inflationary days, gold also moves up sharply when political tension grips the world.

"It recently shot up close to $1,350 an ounce over the US-China trade tension and end of inconclusive talks between US and North Korea over Pyongyang shunning nuclear arsenal activities," he said.

All Sindh Saraf and Jewellers Association President Haji Haroon Chand was of the view that uptrend in gold price should have made jewellers happier as price hike goes into their favour.

However, the situation is opposite to the thinking.

"The uptrend in gold has made us sad as the price is going higher with every passing day and it is hurting our business every day," he expressed concern.

First of all, jewellers were becoming jobless and if anyone had dared to remain in the business he paid the price for.

"We have to pay the increased gold price from our pocket on delivery of the orders booked last week," he lamented.

The demand for gold has shrunk next to nil as purchasing power for everything has dropped down significantly.

"The inflation has hit over five-year high of 9.4% in March due to rupee depreciation and key interest rate hike," he recalled. 

Published in The Express Tribune, April 4th, 2019.

Like Business on Facebook, follow @TribuneBiz on Twitter to stay informed and join in the conversation.
COMMENTS
Comments are moderated and generally will be posted if they are on-topic and not abusive.
For more information, please see our Comments FAQ