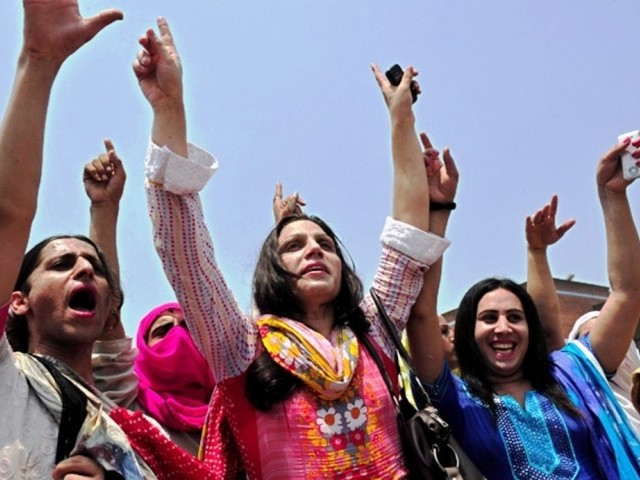 ---
RAWALPINDI: Dozens of people who are transgender took to the streets in Gujjar Khan on Monday to protest against a police raid on a 'doll party' by members of the transgender community a day earlier.

They demanded that their community members, who had spent the night in the police lockup, be released.

On Sunday evening, the police had raided a local wedding hall in Gujjar Khan where a 'doll party' was underway. The police had arrested as many as 67 people, including 27 members of the transgender community, from the hall.

The Gujjar Khan police said that they had received information that some people who are transgender were allegedly consuming alcohol during the party apart from dancing in the event and were violating the Loud Speaker Act. Hence, they raided the site and arrested those present.

Officials added that some 15 to 20 people who are transgender, had managed to escape while they arrested the rest. The police claimed to have recovered bottles of alcohol along with a speaker system and other equipment from the site.

Later, officials said that they had conducted medical tests on the suspects and later register a case under the supervision of Inspector Sikander Azam.

However, the raid triggered the local transgender community who gathered outside the Gujjar Khan police station and protested against the police action.

The protesters then marched on to the Grand Trunk (GT) Road.

The protests intensified as the evening wore on and some people who are transgender barged into the police station, dancing as they did so to protest against the police.

The protesters then returned to the GT Road where they continued their unique protest by dancing on the streets and blocking it. Their protest caused a traffic logjam on the road.

This prompted the police to spring into action and attempted to disrupt the protests.

However, the transgender community members resisted the police. In turn, police officers charged at the protesters with batons.

The situation descended into chaos as the protesters resorted to pelting the police with stones and rocks, forcing the uniformed officers to retreat.

The protesters claimed that the police raid was illegal, adding that the police had misbehaved with their guests and had dragged them along the ground while arresting their fellow people who are transgender.

They added that the police also destroyed their equipment. The protesters said that they will continue their protest until the police release all of their companions.  The protestors have also announced to gather around the CPO office today. 

Published in The Express Tribune, April 2nd, 2019.