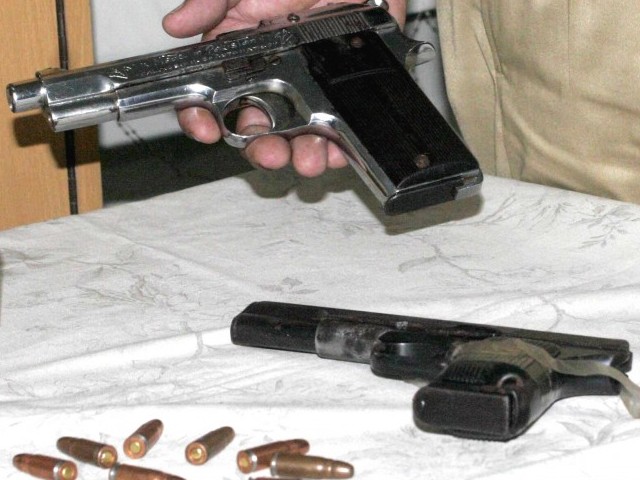 ---
LAHORE: The Punjab Interior Department has established a fact-finding committee to identify hundreds of forged arms licences issued from Lahore district.

The committee, with the help of National Database Registration Authority (Nadra) record, Pakistan Post and weapons branch of the deputy commissioner office (DCOs), has launched investigations.

According to initial investigations, different DCOs issued more licences than the quota set by the government. It was also revealed that there was a possibility of issuing a large number of licences which were converted into computerised cards through false verification.

Earlier this month, a five-member fact-finding committee was formed on the order of Punjab Additional Chief Secretary Captain (retd) Fazeel Asghar.

Arms licences issued to fourth schedulers cancelled in Punjab

The Punjab Interior Department's judicial deputy secretary was made convener while section officer judicial (one), section officer judicial (two), as well as one representative each from Nadra and the Pakistan Post were among the members.

The committee will check the arms licences records of the Lahore deputy commissioner, the Post Office, weapons dealers and other related department and officials.

A special task will also be assigned to the committee to specifically review pending licences received for approval by the office of the deputy commissioner.

The committee will confirm which licences were found to be dubious and would also recommending actions against the responsible people. In a final report, the committee would also give suggestions to prevent forged licences in future.

Interior ministry lifts ban on issuing arms licenses

In Punjab, more than 2.4 million weapon licences have been issued while Nadra has computerised around one million licences thus far. In Lahore, the number of issued arms licences is about 0.7 million.

According to sources, the government had set a monthly quota for the number of licences in each district. At first, the quota of 40 licences per month was set for Lahore, which later was changed to 125 licences per month. However, during that time, hundreds of licences were issued every month.

Therefore, the committee was formed to look into these serious irregularities as it discovered that fake biometric confirmation was attempted to create computerised licences, they added.

Talking to The Express Tribune, Punjab Interior Department Additional Secretary (Judicial) Adnan Arshad Aulakh said that on the directives of the provincial government, the department has started taking stern action against the keepers and makers of forged licences. He added that the fact-finding committee has been formed to review records and data.
COMMENTS
Comments are moderated and generally will be posted if they are on-topic and not abusive.
For more information, please see our Comments FAQ