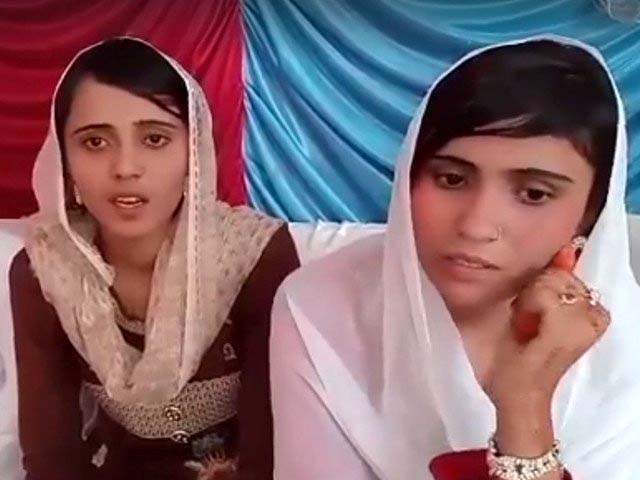 ---
KARACHI: Ghotki police arrested on Monday 12 persons including the marriage officiator and witnesses of two minor Hindu girls who were allegedly forced to convert to Islam.

The incident came to light when a video of the girls' father and brother surfaced online. The men said that the teenagers were abducted and forced into conversion and marriage.


Father of #Reena 14 #Raveena 16 who were forcefully converted to Islam is beating himself up out of sheer desperation. He says either help me get my daughters back safely or kill me. Yeh thappar yeh buzurg apne moun per nahi maashray ke moun per maar rahay hain @BBhuttoZardari pic.twitter.com/cpmlvruAEC

— M. Jibran Nasir 🇵🇸 (@MJibranNasir) March 23, 2019


The girls, who are both 13, have been identified as Reena and Raveena. They were allegedly kidnapped on March 20.


#Reena 14 & #Raveena 16 claiming they will fully accepted Islam. This can't be an excuse for Police. Cant ignore both girl are underage, were illegally married after conversion & both could be under immense pressure. For more on Forced conversions read https://t.co/7gT9vigqnz pic.twitter.com/vp6T2MzPtj

— M. Jibran Nasir 🇵🇸 (@MJibranNasir) March 22, 2019


A new video, however, has now emerged in which a cleric is sitting next to the pair with two other men they were married to.


Family of Reena and Raveena who were forcefully converted to Islam registered FIR with local police for "abducting to compel to marriage". Age in FIR is 14 & 16. Under Sindh Child Marriages Restraint Act every citizen under 18 falls under definition of child and cant be married pic.twitter.com/RN2RpjPATB

— M. Jibran Nasir 🇵🇸 (@MJibranNasir) March 22, 2019


The cleric said the girls were inspired by Islam and alleged that their family was lying about the incident.


Brother of #Reena and #Raveena along with the local Hindu Community in Ghotki protested their abduction on #Holi but the Police has tried to dismiss the matter by citing a video of the two sisters in which they claim they will fully converted to Islam. pic.twitter.com/NC9dL49Lxc

— M. Jibran Nasir 🇵🇸 (@MJibranNasir) March 22, 2019
Thread @BBhuttoZardari #ForcedConversions. 2 sisters #Reena 14 #Raveena 16 were converted to Islam at Darga #BarchundiSharif in #Ghotki. As per Dargah girls wanted to convert to Islam since long influenced by it's teachings but 1st act after conversion was underage marriage pic.twitter.com/ztl3x13q6N

— M. Jibran Nasir 🇵🇸 (@MJibranNasir) March 22, 2019


Reports also emerged that the teenagers had been moved to the Punjab city of Rahim Yar Khan from Ghotki, Sindh.

On March 24, Information Minister Fawad Chaudhry said the government had taken notice of the incident, asking authorities in both Sindh and Punjab to jointly investigate the matter.


آج صبح وزیر اعظم عمران خان نے وزیر اعلی! کو یہ ہدائیت جاری کی ہے کہ سندہ سے اغوا ہونیوالی دو نو عمر ہندو لڑکیوں کے بارے میں ایسی اطلاعات ہیں کہ انھیں رحیم یار خان منتقل کیا گیا ہے، اس معاملے کی فوری تحقیقات کی جائیں اور اگر ایسا ہے تو بچیوں کو بازیاب کرایا جائے،

— Ch Fawad Hussain (@fawadchaudhry) March 24, 2019
وزیر اعظم نے سندہ اور پنجاب حکومت کو یہ بھی ہدائیت کی ہے کہ اس معاملے پر مشترکہ حکمت عملی اختیار کریں اور سندہ حکومت ایسے واقعات کے تدارک کیلئے ٹھوس اقدامات اٹھائے، پاکستان میں اقلیتیں ہمارے جھنڈے کا سفید رنگ ہیں اور ہمیں اپنے تمام رنگ عزیز ہیں اور اپنے پرچم کی حفاظت ہمارا فرض ہے

— Ch Fawad Hussain (@fawadchaudhry) March 24, 2019


Similarly, it was announced that a five-point resolution seeking to end the kidnapping of Hindu girls and forced conversions was set be tabled in the next session of the National Assembly.

According to a resolution draft circulated on social media, prominent Hindu lawmaker Dr Ramesh Kumar Vankwani was asked by Pakistan Hindu Council to play his due role for raising his voice in the parliament, media, civil society and all other forums available, in the wake of incident.

Meanwhile, the couples approached the Islamabad High Court, seeking protection as their lives were under threat.

The application stated that propaganda was being spread in the media related to the matter.

With additional input from News Desk