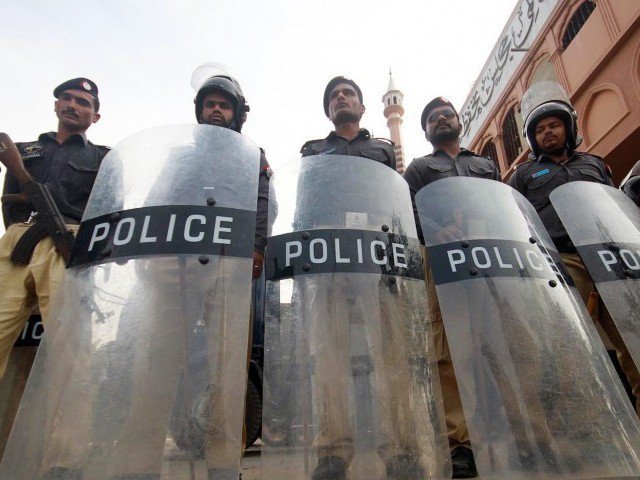 ---
PESHAWAR: Despite lofty claims to have brought drastic reforms in the police department and seniors of the police force always asserted that as soon as PTI took-over the power, the behaviour of the police had drastically changed.

The ground realities are quite to the contrary as a seventy-year-old woman beggar named Roghania was seriously injured by a policeman Mohib Ullah near the Tablighi Markaz in Lower Dir on Sunday.

However, District Police Officer has terminated the services of SPF Mohib Ullah according to an order seen by Daily Express.

SPF Mohib Ullah of Police Station Timergra is terminated from service with immediate effect read the order issued from the office of District Police Officer (DPO) Arif Shahbaz Wazir.

According to the septuagenarian, she and the two other women were begging as usual on the main gate of the Tabligi Makaz in Timergara, but today there was a larger crowd of people at the gate.

The policeman forcefully pushed the aged women throwing her off balance due to which she fell hitting her head on the ground. Her head started bleeding.

"I know the police constable who pushed me and hit me so hard, that made me lose my balance and fall to the ground, resulting in injuries to head and shoulder," Rughania said in recorded video statement.

Timergara city district government member Alamzeb Khan also told The Express Tribune that they found her in such a condition that blood was oozing profusely from her head and she was in severe of pain, and had to be shifted to hospital for treatment. "We demand from the District Police Officer (DPO) to conduct an inquiry into the use of force against elderly women in my area and make an example of them and teach them as to how to treat elderly citizens in a polite manner," Alamzeb Khan said talking to The Express Tribune.

Earlier DSP Sher Wali of the city area had refuted the claims of Alamzeb. She along with two other women has been begging at the gate of Tablighi Markaz since past many years.

"Today after Zuhar prayers, people rushed to the main gate and she was pushed back with force and fell down resulting in injuries to her head and shoulders. No police constable is responsible for the incident," DSP Wali said.

However, the people supported the complaint of district member and demanded an inquiry into the incident, and if found guilty should be suspended.

However, instead of being suspended the service of the errant policeman has been terminated by the district police chief setting an example of swift action against such brutal attitude of policemen.



Published in The Express Tribune, March 25th, 2019.
COMMENTS
Comments are moderated and generally will be posted if they are on-topic and not abusive.
For more information, please see our Comments FAQ