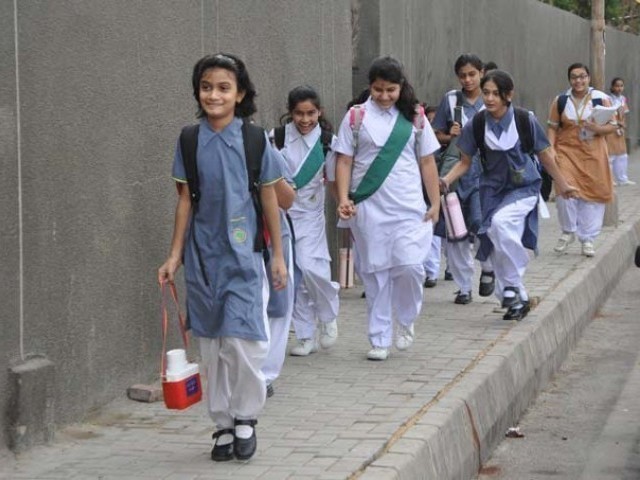 ---
RAWALPINDI: As the new school year begins, parents of private school students have complained that their children's institutions are trying to fleece them through various underhanded tactics.

In particular, parents have complained that private schools are trying to force them to purchase school books and stationery for the entire year only from particular outlets, suggesting that there may be some collusion between the schools, book depots and even the publishers.

Many parents, as such, are calling on the prime minister and the Chief Justice of Pakistan to take notice of this situation.

"After charging exorbitant fees, private schools seem to have discovered a new way of milking money," complained Muhammad Usman, a father of three, all of whom are enrolled in a private school.

"When the school handed us my kids' results, they gave us a long list of new books, notebooks and other stationery with a warning against using material left over from the previous year," he said.

"These items put together are worth more than Rs20,000," complained Usman, adding that the school staff was pressuring him and other parents to purchase these from particular outlets.

Responding to complaints from Usman and similar gripes expressed by other parents, district education authority member and Private Schools Management Association President Abrar Ahmed Khan said that after the approval of the Private Education Amendment Ordinance, no private school can demand students, who are moving to the next class, to buy the entire year's stationery, nor can the parents be forced into buying books from specified shops.

He added that those parents who have complained about receiving these illegal demands from private schools should register complaints with the district education authority and that action will be taken against such schools according to the law.

"Private schools making such demands have no ties with education and are fully condemnable," he said.

Abrar added that they were trying to spread awareness amongst parents about their rights with regards to private schools. In this regard, they were organising seminars to offer training to private school owners but some of them continue to make things difficulties for parents in a quest for personal or monetary gain.

"This process of earning money from parents is the result of collusion between the private schools, book depots and those related to publications," he added.



Published in The Express Tribune, March 18th, 2019.
COMMENTS
Comments are moderated and generally will be posted if they are on-topic and not abusive.
For more information, please see our Comments FAQ