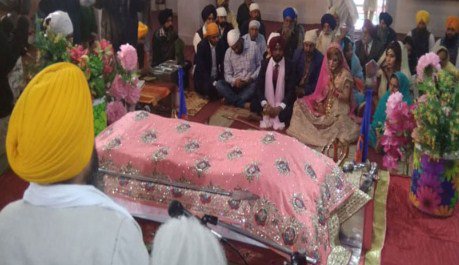 ---
LAHORE:

It is said that true love transcends boundaries and defies established norms. So was the case with Kiran Sarjeet – a 27-year-old Pakistani woman who tied the knot with Parvinder Singh, an Indian citizen. That the marriage happened amid the recent tensions between Pakistan and India – along with the 'normal' bureaucratic hurdles and legal formalities – proves that no matter what, the heart can overcome them.

Attended by a handful of close relatives and friends from both sides, the wedding took place in the historic Indian city of Patiala. Kiran, who hails from the Sambaryal neighbourhood of Sialkot, took the Samjhota Express to reach Delhi on March 7, and two days later, the couple were married in a traditional Sikh ceremony at a local Gurdwara.

The families of Kiran and Parvindar had ties that stretched back to the pre-partition era. In 1947, however, Parindar's family migrated to India while Kiran's family settled in Sialkot. Despite the distance and the often-strained relations between India and Pakistan, the families maintained strong ties and continued to visit each other. Kiran and Parvindar, however, only met in 2014.

"It was love at first sight," Kiran explained. "Later, we both told our families that we want to get married, and they got us engaged in 2016."

After three years of the engagement, the lovebirds finally entered the bond of marriage. However, it was not smooth sailing.



According to Kiran's family, Parvinder sent sponsorship letters to them from India but they still faced considerable problems getting visas.

"Getting a visa for my family was a hectic struggle," Kiran recalled. "The Indian Embassy wanted proof that we scheduled our wedding ceremony well before the Pulwama attack took place. Parvindar and I did not want to delay our marriage any further, so we provided all the evidence we could to the embassy to prove the authenticity of our case."

Even though Kiran's family were granted visas after undergoing various delays, they were not permitted to travel to any other part of India except Patiala.

"I am extremely happy that Parvindar and I have finally tied the knot, but I am simultaneously concerned over the escalating tensions between the two neighbouring countries."

She worried that the travel and visa related difficulties people already face might escalate in future.

"It is not possible for me permanently settle in India until I am granted Indian citizenship, and under the current circumstances, it is extremely difficult for a Pakistani to be considered for citizenship or even permanent residency," Kiran lamented.

Kiran is not the only one who fears an uncertain future.

Dozens of Pakistani men and women from Azad Kashmir have married people who live in Indian Occupied Kashmir.

Citizenship problems and the related bureaucratic hurdles force many couples apart, with those separations sometimes ending in divorce, while many others wait impatiently to reunite with their spouses.

Love marriages between Pakistani and Indian youngsters and their sad endings no longer surprise anyone. Since partition, hundreds of such marriages have failed.

However, those who dared to choose the path did it amid a myriad of problems and faced numerous complications. It isn't only the embassies which are reluctant to issue visas, but fraudulent practices, as well as the age-old enmity between the two states, have made matters worse.

Even though there have been worldwide incidents where citizens of countries – that share unfriendly ties or hostile relations – have faced visa-and-residency related issues after marrying each other, the extent of difficulties faced by Pakistanis and Indians is incomparable.

The nuclear arms race, a lack of trust and the impacts associated with hostilities between the two South-Asian countries have greatly affected the lives of many citizens.

And that's not all, but couples also have to face problems on a societal level. Many individuals had to face taunting remarks from their fellow countrymen for their choice of spouse and their patriotism was seen with dubiety.

To top it off, such couples also have to bear the brunt of the media's unfavourable projections of the other side.

Amid many failed India-Pakistan marriages and undue separations, many couples persevered against all odds, tied the knot, fought for their rights and are now spending a good life together.

In May 2014, Dr Pratima from India married Muhammad Mansha, a resident of Layyah. Prior to the wedding, Pratima converted to Islam and changed her name to Maryam.

Adnan and Shazia – an Indian-Pakistani couple residing in Dubai – got married in February 2019. The couple had met each other in a Dubai-based university some 12 years ago. What started as friendship soon turned into love and finally into marriage, followed by a happily-married life.

Similarly, famous Pakistani cricketer Shoaib Malik and Indian tennis star, Sania Mirza, are leading a blissful married life. The couple tied the knot in April 2010.

Likewise, Karni Singh Sodha from Pakistan and Padmani Rathor from India not only got married but also celebrated an exuberant wedding ceremony amid friends and family members in Jaipur's Kanota Fort.

In November 2016, Naresh Tewani, an Indian citizen, got married to Priya Bachani of Pakistan in the Indian state of Jodhpur. Interestingly, the Indian embassy initially refused to issue a visa to the bride and her family. However, after the matter was brought to the attention of Sushma Swaraj – the Indian minister of external affairs – visa-related issues were resolved and the couple got married without any further problems.

Last year, a Pakistani woman named Salvia Noreen married an Indian citizen Daniel Henry. After the wedding took place in Pakistan, Daniel returned to India but his wife had to stay back because she failed to obtain an Indian visa. After a year-long struggle, Noreen was finally granted a visa earlier this month.

In 2002, Gulzar alias Sohail Tantray of India married a Pakistani woman named Rohina Kiyani and settled in Pakistan. The couple had a son together. In March 2016, when Gulzar took his son to India for a visit, he was arrested by the Indian law enforcement authorities on charges of illegally crossing the border in 1999 and settling in Muzaffarabad. With the cooperation of the Pakistani High Commission, however, his son was sent back to Pakistan.

That apart, scores of young individuals from both countries, who meet each other over the internet, often end up falling for each other. And despite making promises and claiming unshakable love and commitment over social media and the telephone, they have been unable to meet each other.

And although true love continues to surpass borders, the hate espoused by politicians and the enmity between the two states often wins over.
COMMENTS (1)
Comments are moderated and generally will be posted if they are on-topic and not abusive.
For more information, please see our Comments FAQ