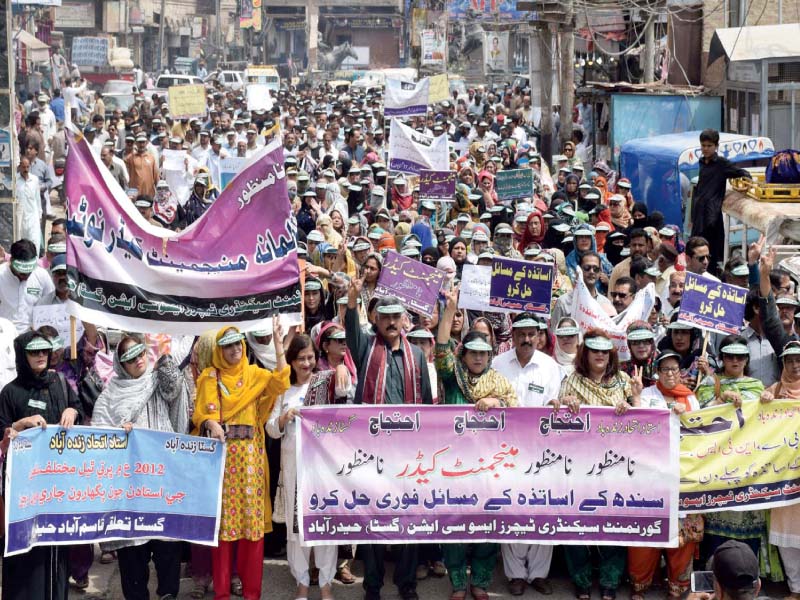 ---
HYDERABAD: The Government Schools Teachers Association (GSTA) will surround the Chief Minister's House as the teachers claim that the provincial government has failed to act on their demands.

The teachers from across the province will gather in Karachi on March 28 to stage the sit-in.

GSTA President Muhammad Ashraf Khaskheli, who led a protest walk in Hyderabad on Saturday, blamed the government for leading the province's education system towards further deterioration. "The school management cadre system isn't only depriving teachers of their right to get the promotions, but the interloper will end up losing whatever gains have been attained so far in the standard of education".

Minister, teachers' talks conclude

The Sindh government notified the Education Management Cadre consisting of School Executive Service, School Management Service and School Finance Service in October 2014.

Under the school management service policy, the headmasters of all the government schools will be appointed through Sindh Public Service Commission while the school teachers will no longer be allowed to get the headmaster position through promotion.

He argued that the management cadre will lead to the financial massacre of the teachers and administrative officers of the education department.

Education dept launches teachers' training programme

He claimed that the provincial government has still not addressed the matters of timescale and long pending promotions of the teachers.

The teachers in their slogans said they will not accept the handover of administrative control of the schools and education department to bureaucrats who lack experience and skill required for this profession. The other office bearers of GSTA including Ahmed Ali Solangi, Muneer Ahmed Halepoto, Mubarak Ali Abbassi and others also spoke.

Published in The Express Tribune, March 17th, 2019.
COMMENTS
Comments are moderated and generally will be posted if they are on-topic and not abusive.
For more information, please see our Comments FAQ