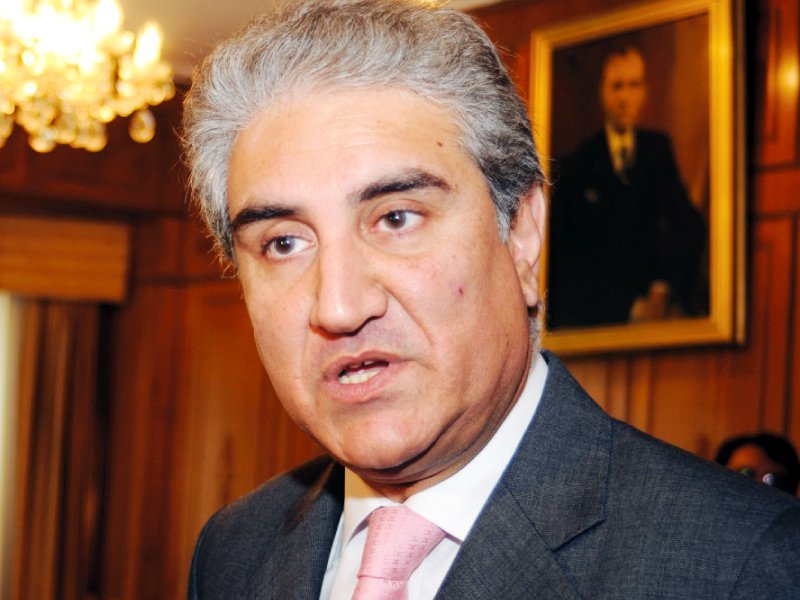 ---
ISLAMABAD: Foreign Minister Shah Mehmood Qureshi said on Thursday resolution of the Kashmir issue in the light of United Nations resolutions was inevitable for peace and stability in the region and reaffirmed Pakistan's moral, political and diplomatic support for the Kashmiri people in their legitimate struggle.

Talking to a 14-member delegation of parliamentary leaders of Azad Jammu and Kashmir (AJK) led by Prime Minister Raja Farooq Haider in Islamabad, Qureshi apprised them the government's efforts for highlighting the Indian atrocities being perpetrated against the Kashmiri.

The foreign minister regretted that India had intensified its crackdown against innocent Kashmiris after the Pulwama attack. He condemned India's unprovoked shelling across the Line of Control (LoC) and the Working Boundary.

He stated that denying the right to self-determination to the Kashmiri people, as recognised by the numerous United Nations Security Council resolutions on Jammu and Kashmir, continued to keep peace and security of the nuclearised South Asia hostage.

He deplored that instead of introspection, the Indian government and its media hurled baseless accusations against Pakistan, without any investigation. He reaffirmed Pakistan's moral, political and diplomatic support to the people of Indian occupied Kashmir in their struggle for the right to self-determination in accordance with the United Nations Security Council Resolutions.

Talks on Kartarpur Corridor today

Separately, in an interview with Radio Pakistan on Thursday, Qureshi said that Pakistan's desire for opening the Kartarpur Corridor was being appreciated by the world community, adding that Islamabad wanted to set modalities with New Delhi with regard to the corridor project.

"We are looking forward … the Sikh pilgrims from India must come to Pakistan to celebrate 550th Birth Anniversary celebrations of Baba Guru Nanak," he said. He said that Pakistan had nothing to do with the Pulwama incident and "its reality has been exposed before the international community".

"A political party in India is resorting to war frenzy just for the sake of gaining popularity in order to win the upcoming elections there," the minister said, adding that Pakistan would remain cautious as the enemy was very clever and could betray at any time.