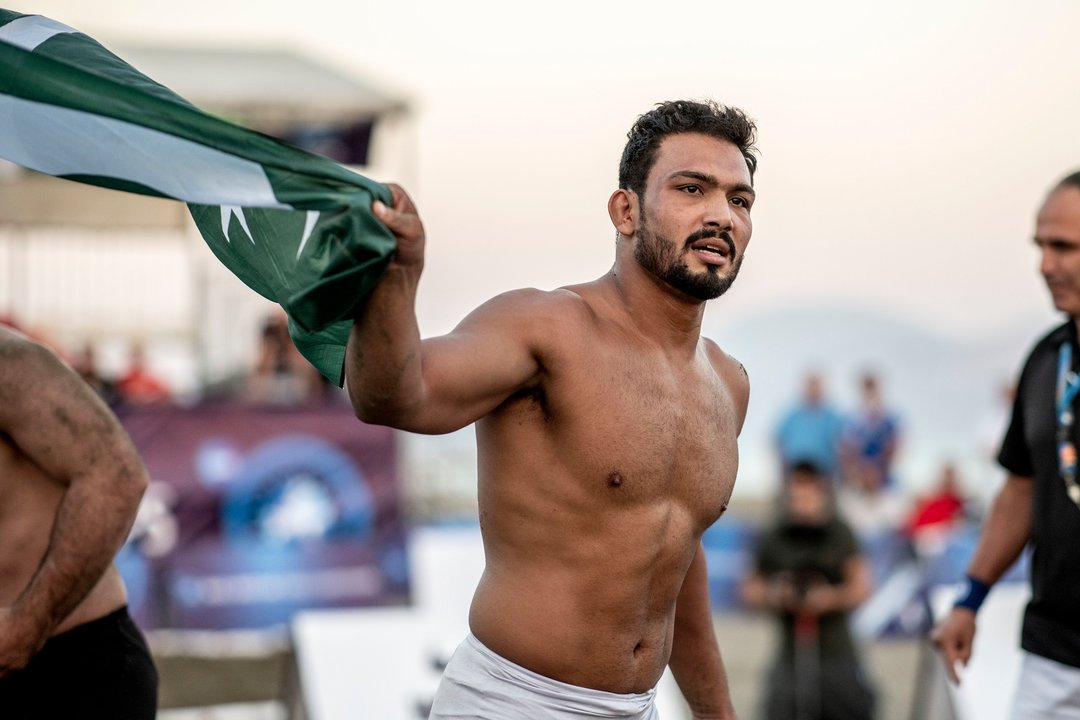 ---
KARACHI: Pakistan's two-time World Beach Wrestling champion Muhammad Inam is hoping for better training camps as he is preparing for the upcoming international events to qualify for the Olympics.

Inam will be getting the Pride of Performance Award on March 23 on Pakistan Day for his achievements and for him the key point is to motivate others and himself to do better in his sport.

Inam has won Commonwealth Games gold medals in 2010 and 2018, while Asian Beach Games bronze medal and South Asian Games gold medal as well in his career.


Don't only congratulate, help wrestlers: gold-winner Inam


The 30-year-old has been the most successful athlete for Pakistan and rose to prominence with his 2010 Commonwealth Games performance.

However, despite winning the World Beach Wrestling Championship on the trot in 2017 and 2018, Inam had moments of despair as there had been no recognition or support from the government or any sponsor, since everyone talks about and invests in cricket.

Even in this year's list of civilian honours for outstanding achievement, cricketers will be getting Sitara-i-Imtiaz and other two legends are also set to be conferred with Hilal-i-Pakistan.

"I was just very glad that the government has paid attention to wrestling as well," Inam told The Express Tribune. "This award for Pride of Performance is not just for me but for my coach, my trainers and every athlete I've practiced with. I was just happy to be seen.

"Of course cricket is more popular, but wrestling is our sport too. I'm not as popular as the cricketers, but I'm glad that at least now they know I am playing for Pakistan and I will not stop anytime soon. I'll keep trying till I can."

Earlier this month Inam had also won the Rustum-e-Pakistan title, a traditional wrestling championship that is an open weight category event, but has rounds.

Since Inam is not getting even the national camp to train at and there are no prospects of going to train abroad, he chose to compete in Rustam-e-Pakistan competition.

"At least we used to have the national camp where the top wrestlers of the country could train with each other and fight too, but even that is not happening anymore. What else was I going to do with my time then?" said Inam. "I chose to compete at Rustam-e-Pakistan because a lot of people had asked why I never tried the traditional wrestling style, and secondly this was one of the ways to stay in competitive head-space for me. This helped me stay trained as well so that as soon as I can get any opportunity to compete internationally, I'm ready to go," said Inam, who went on to defeat Multan's Hamid Khan in the final of Rustam-e- Pakistan. This was the first time he had competed in a traditional style wrestling event.

Inam further added that he did apply many of his mat-wrestling techniques in Rustam-e-Pakistan fights too, which were seven in total including the final.

He is now eyeing a medal at the World Beach Games that will take place in San Diego later this year, while two events in Portugal and Brazil to gather the points for Olympic qualification.

"I'm going to give my all, but right now, I'm not getting any training on the national level either, so I'm training on my own in Gujranwala. I want to come back with a medal if I go to the World Beach Games. I want to win a medal in the US, that is my aim," said Inam.