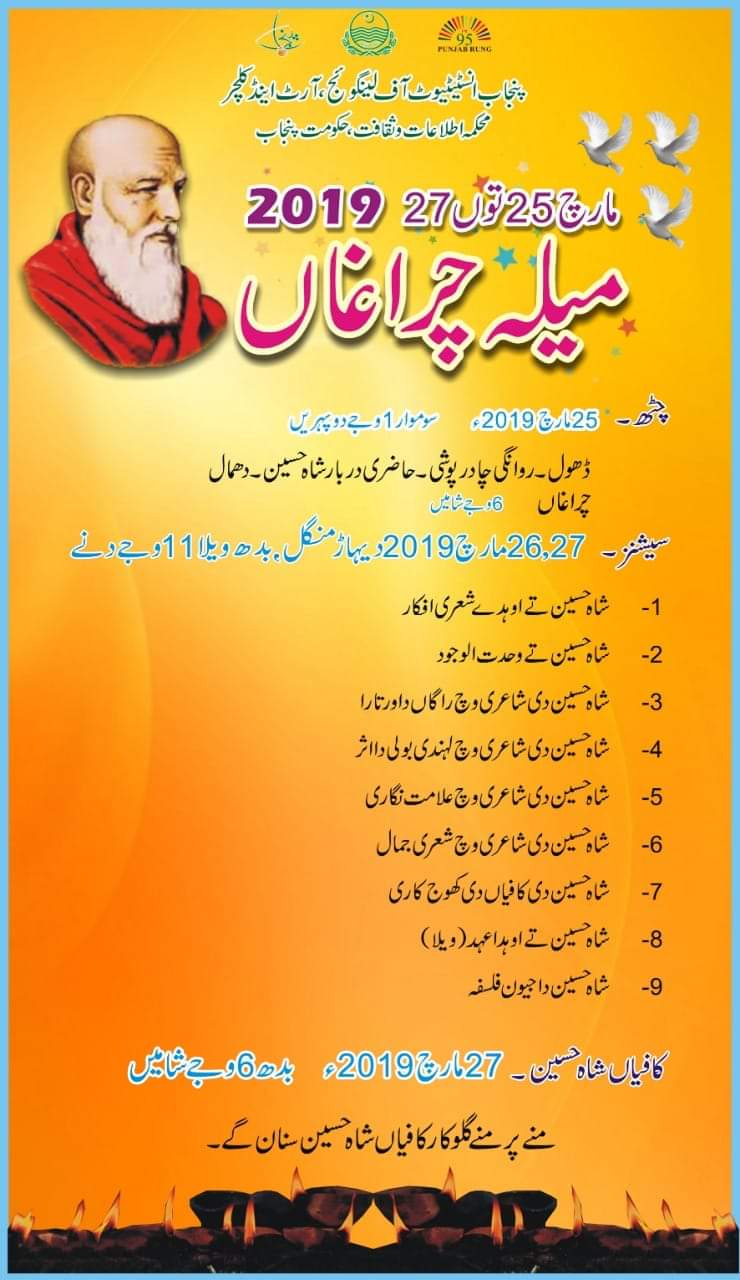 ---
LAHORE: The Punjab Institute of Language Art and Culture (PILAC) is organising Mela Chiraghan (Festival of light) to celebrate the Urs of famous Sufi poet Shah Hussain between March 25 and 27.

PILAC Director General Dr Sughra Sadaf told The Express Tribune that a number of renowned folk singers from across the province have been invited to perform on the poetry of Shah Hussain.

"The aim of the event is to revive the tradition of celebrating local cultural festivals. This tradition is declining and PIIAC in collaboration with the Punjab Information and Culture Ministry has planned to organise several festivals this year."

PILAC, which is an institution of the government of Punjab, works for the promotion of Punjabi language, art, and culture. At present, it is preparing to organise the festival and the institution's building is being decorated. The annual mela titled Mela Chiraghan will be held in the last week of March to pay tributes to Sufi poet Shah Hussain.

"Mela Chiraghan is one of the biggest festivals of the country and we celebrate this festival every year. The music history of our country is incomplete without the contribution of Shah Hussain as all famous singers, including Nusrat Fateh Ali Khan, Mehdi Hassan, Reshman, Saint Zahoor, and others have sung Shah Hussain's Sufi poetry. She added that traditional festivals are also a kind of platform where novice singers perform and gain experience. "A number of qawals and folk singers started their careers after singing at these festivals," she said adding that unfortunately such festivals are not organised frequently and this culture is dying down due to commercialisation.

Dr Sadaf said that now PILAC is making all efforts to revive the culture of traditional festivals. "We are trying to invite all prominent singers, including Arif Lohar, Sain Zahoor, Naseebo Laal and several others. Folk singers from other countries will also be invited," she said. Sufi music lovers would have an opportunity to enjoy at the festival, she added.

She shared that a number of sessions to highlight works of Shah Hussain to be organised. Several traditional instrumental players are also being invited, she said, adding that stalls of food and other items would also be set up.

This year they would also organise festivals to celebrate urs of Bullah Shah, Waris Shah, and other saints, she said.


COMMENTS
Comments are moderated and generally will be posted if they are on-topic and not abusive.
For more information, please see our Comments FAQ