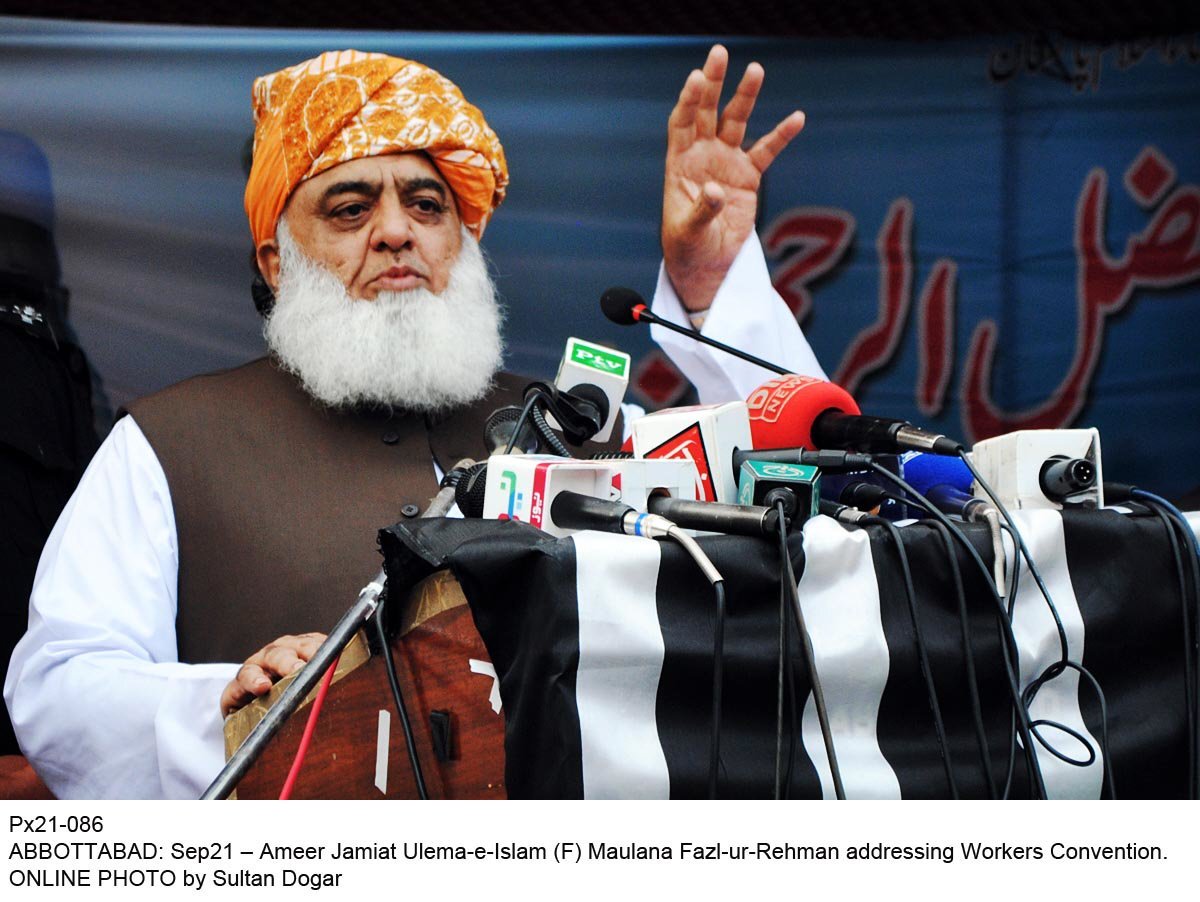 ---
DERA ISMAIL KHAN: Jamiat Ulema-i-Islam-Fazl (JUI-F) chief Fazlur Rehman has said that the China-Pakistan Economic Corridor (CEPC) project has been shelved for a year adding that the government had committed theft by spending Rs24 billion out of Rs27 billion meant for the Belt and Road Initiative on other development projects.

He was talking to delegations who had come to meet him at his residence.

Rehman said that the ideological identity of Pakistan was being attacked and the government had no patience to tolerate criticism.

He termed the government's claim of eliminating ninety per cent terrorism as childish and maintained that the law and order situation in the country was similar to that of the Dera Ismail Khan where people are being killed every day through target killing.

He noted that the National Accountability Bureau (NAB) was not an accountability body but a political tool to carry out victimization. He said that the arrests had been a norm since the time of Zulfikar AIi Bhutto but they yielded no results.

Criticising the government, he said that PTI was borrowing a loan of Rs15 billion every day which will be paid by the next generations.

He said that the taxpayers had no confidence in the government and no one was ready to invest in the country while money had been shifted abroad.

Pakistan to pay China $40b on $26.5b CPEC investments in 20 years

The JUI-F leader added that the return of Indian pilot in haste had converted Pakistan's victory into defeat. He observed when the war between India and Pakistan had not been declared on the international level, the condition of return of prisoners under the Geneva Convention did not apply to Pakistan.

He said that all institutions in the country had failed to deliver due to the government's incompetence.

He said that bureaucrats were disappointed with the government policies while a political atmosphere had been created in the educational institutes due to which the standard of education was falling every day.

He reminded that he had always defended the country and stood united in the face of a foreign attack but due to the blunt ministers of the government, the unity was at stake.

He said that those who talk of the constitution were being dubbed traitors.

He maintained that he and his party had respect for the minorities as this was the message of Islam.

The JUI-F chief alleged that the government had ensured a complete media blackout of JUI-F and its million march had not been covered in the print and electronic media.

He claimed that JUI-F was the largest religious party in the country and no one could bring an end to its power.

Responding to a question, Rehman said no one in the country should be armed except the army and added that instead of succumbing to Indian pressure, the government should take the people and political parties into confidence.