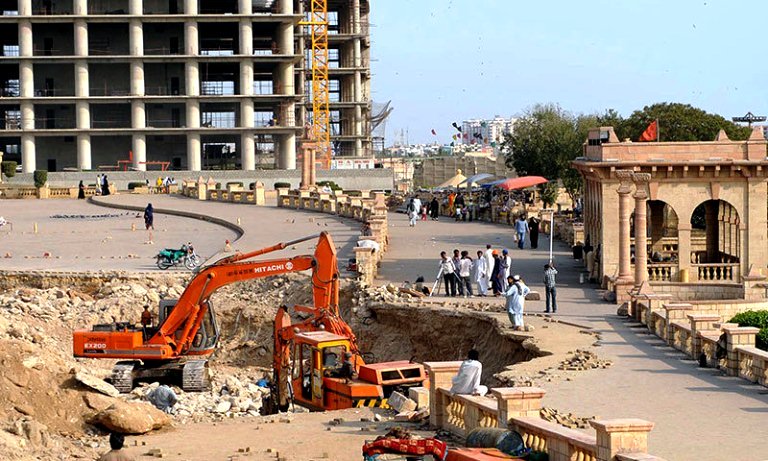 ---
KARACHI: Sindh Chief Minister (CM) Syed Murad Ali Shah has embarked upon the third phase of reconstruction of Karachi, particularly of under-developed and industrial areas including Lyari, Korangi, Korangi Industrial Area where around Rs4 billion worth of development schemes have been lunched.

On Sunday morning, Shah along with Local Government Minister Saeed Ghani, Adviser on Information Murtaza Wahab, Karachi Package project director and other relevant officers visited different localities where development works were in progress.
The CM started his tour from Shaheed-e-Millat Road where two underpasses are under-construction.

The first underpass at Hyder Ali Chowrangi along Shaheed-e-Millat Road is being constructed at a cost of Rs658.188 million. The 445-metre-long underpass is scheduled to be completed in six months.
The other underpass is at Tariq Road Chowrangi along Shaheed-e-Millat Road. The 545-metre-long underpass is being constructed at a cost of Rs524.258m.

Iqbal received Rs70b kickbacks in motorway project: Saeed

Both the underpass projects are scheduled to be completed within six months but Shah directed Project Director (PD) Niaz Soomro to complete them within four months. He also directed Traffic deputy inspector-general (DIG) to make necessary arrangements to avoid inconvenience due to the road closure.

Next, the CM went to Korangi Industrial Area where the construction of a road leading to Dawood Chowrangi from Jam Sadiq Bridge has started. This road is known as 8,000 Road. The nine-kilometre road will be constructed at a cost of Rs1.2b. Under this project, the water supply line from Murtaza Chowrangi to Future Mor would be shifted. The CM directed the Karachi Package PD to reconstruct the damaged storm water drains. Shah told the director that the Bus Rapid Transit (BRT) Yellow Line Project will be undertaken with the support of World Bank on the 8000 Road, therefore, reconstructions of the road should be made accordingly. "I want you to ensure there would be no duplication of road construction," he said.

The CM then went to Korangi and visited 12000 Road where an intersection bridge at Korangi No.5 is under-construction. The 460-metre-long bridge would be completed at a cost of Rs330.429m within six months.

Shah told the director that high-tension overhead cables were passing through the intersection, therefore, they should be shifted or alternative arrangements must be made.

The CM then visited the overhead bridge under-construction at Korangi No. 2.5, which is being constructed at a cost of Rs330.429m. It would have a carriage way of 8.3 metres and would be 460-metres-long.

In the last leg of his tour, Shah visited Lyari where he reviewed the progress of the roads under-construction surrounding Lee Market. These roads measure a total of 14.64km. The cost of the project is Rs454.2m. The entire area would also be illuminated through high-mast lighting towers at designated points. These roads are 1.63km Shah Waliulldah Road for Rs14m, 2.51km Shah Abdul Latif Bhittai Road for Rs15m, 1.13km PICHAR Road for Rs11m, 0.34km Mohammad Ali Alvi Road for Rs13m, 1.37km Mohammad Shah Road for Rs16m, 1.36km Siddique Wahab Road for Rs15m, 1.54km Napear Raod for Rs17m, 1.8km Nawab Mahbat Khanji Road for 14m, 0.59km Sheedi Village Road for Rs13m, 2km Old Dhobighat Road for Rs12m, 0.15km Bhimpura Road for Rs13m and 2km Chakiwara Road for Rs15m.

Media talk

Talking to media at the end of his tour, Shah said that there was a conspiracy to cancel PSL matches in Pakistan but "with the grace of God and with our sincere efforts we managed to get eight PSL matches, including the final in Karachi".

CM Murad wants to generate 250MW of electricity from garbage

He said that the situation on the borders was tense, therefore people were casting doubts about the hosting of PSL matches. "Now the situation is much better and matches are being played in the city," he said, adding that it has been done because of the spirit of people of Karachi.

He said that after the PSL final, efforts would be made to hunt talent from the nook and corner of the province for the next PSL and for the national team. A match would also be organised in Niaz Stadium, Hyderabad next year, he said.

Talking about the development projects, Shah said that the provincial government was short of funds but even then the uplift and reconstruction of the city would not be stopped.

"I have visited all the schemes that have been launched and they would be completed within four months," he said.
COMMENTS
Comments are moderated and generally will be posted if they are on-topic and not abusive.
For more information, please see our Comments FAQ