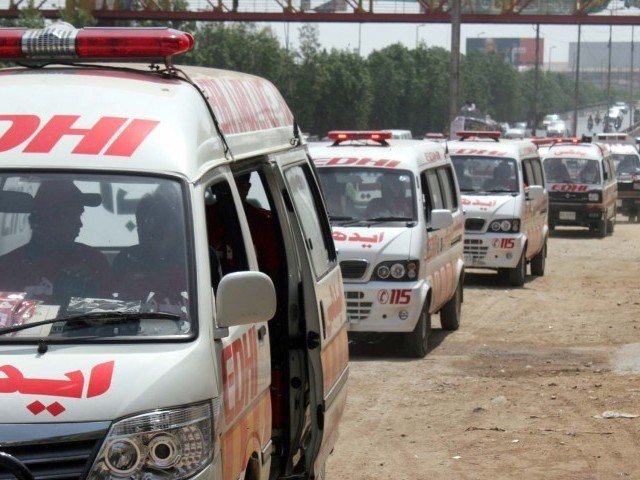 ---
LAHORE: In a surprising move, the City Traffic Police Lahore (CTPL) have issued a challan to an ambulance of Edhi Foundation over a parking violation.

The traffic warden not only issued the ticket. but also impounded the vehicle at Shadman police station. The spokesman for the Edhi Foundation alleged that the traffic warden 'illegally' barged into the Edhi Centre on Jail Road and stopped the ambulance from responding to emergencies. He also alleged that the warden misbehaved with ambulance drivers.

"It has become a norm," he remarked. He added that the traffic warden placed the ambulance on a footpath using a lifter and imposed a fine of Rs500. On behalf of the Edhi Foundation, he condemned the challan. On the other hand, a spokesperson for CTPL said the action was taken over due to a parking violation. He said they had repeatedly briefed the Edhi drivers about parking rules.

He also urged the charity drivers to use Services Hospital's parking as space on APWA College's service roads could not be allowed for parking. He said the APWA College administration had also registered complaints against them.

Malik Ejaz, a resident of Shadman, had also filed a case in a court against this illegal parking. He added that the parking of Edhi ambulances near APWA College led to gridlocks during college opening and closing hours.

He said the drivers could park their vehicles in the Services Hospital parking lot, but they parked this on road just to avoid parking fee. He alleged that the drivers wanted to resume the parking stands by hurling false accusation.

Commenting on the issue, Advocate Azhar Siddique said though there was a relaxation in traffic rules only for those ambulances dealing with emergencies. He further said as ambulances were on a life-saving mission, it was the government's responsibility to facilitate them.

"If the government does not help them with parking, then the benefit of doubt on whether the law should act or not goes in favour of the ambulance [staff]," he added.
COMMENTS
Comments are moderated and generally will be posted if they are on-topic and not abusive.
For more information, please see our Comments FAQ