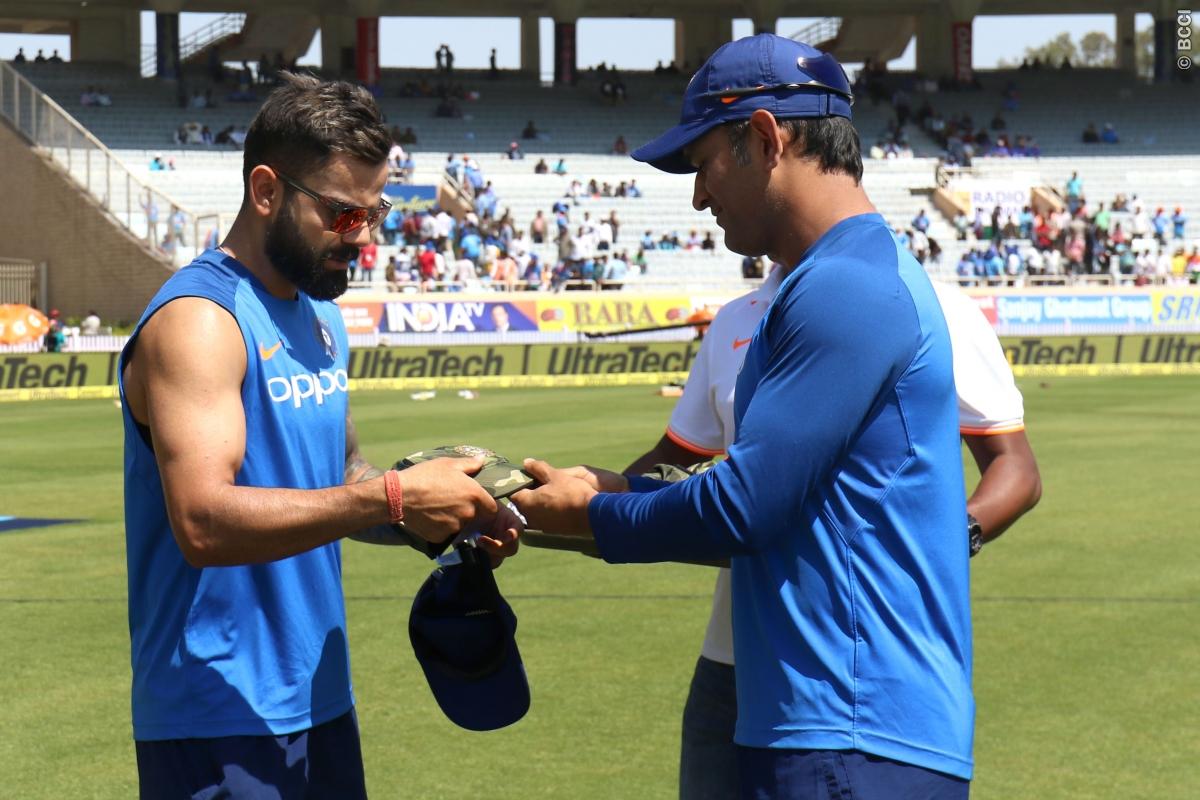 ---
LAHORE: Federal Minister for Information Fawad Chaudhry has said that the International Cricket Council (ICC) should impose a ban on the Indian cricket team for violating regulations.

Speaking to the media here on Saturday, the minister said that by wearing Indian army caps, the Indian cricket team has violated ICC's code of conduct.


A closer look at the camouflage caps which #TeamIndia is sporting today#JaiHind 🇮🇳🇮🇳 pic.twitter.com/3qExYp7Cvy

— BCCI (@BCCI) March 8, 2019


"Indian Prime Minister Narendra Modi is trying to use ugly tactics to win polls," said Fawad, adding that the Pulwama drama was also scripted to influence election results.

Beijing helped defuse Pakistan, India tension: China FM

The minister also said the entire world is appreciating Pakistan's stance and efforts for peace.

Speaking about medical treatment of former prime minister Nawaz Sharif, he said that as per directives of Prime Minister Imran Khan, the Punjab government is ready to extend all possible medical care facilities to Nawaz but a certain group within Pakistan Muslim League-Nawaz (PML-N) is doing politics over his health.

He underlined that it is an internal matter of Pakistan to implement sanctions against banned outfits and added that Pakistan had adopted the National Action Plan (NAP) in 2014 but its implementation remained sluggish for various reasons.

"Now the government has decided to start its implementation," said Fawad, maintaining that a statement of Indian government about banned outfits is not justified. "It is also a wrong impression that the government is implementing NAP to satisfy India."

Speaking about the resignation of the former Punjab information minister, he said Fayyaz Chohan had played a good innings and now it's Samsam Bukhari's turn to inform the people of the province about initiatives and policies of the government.

The information minister further said that it won't be a surprise if Pakistan Peoples Party (PPP) Chairman Bilawal Bhutto Zardari meets Nawaz as their parties are allies in the opposition. "Bilawal should definitely meet Nawaz in jail," jibed Fawad.

Earlier, the minister attended an event at the Social Welfare Department. Speaking on the occasion, he said the department is helping the poor and underprivileged as per the vision of the prime minister.

Maryam seeks emergency medical unit in jail as Nawaz's 'condition worsens'

Ties with neighbours

Meanwhile, the federal minister said in an interview with a Russian television channel that normalisation of relations with India and stability in Afghanistan were the two most important goals of the Pakistan Tehreek-e-Insaf (PTI) government.

He said it is unfortunate that Indian Prime Minister Narendra Modi created war frenzy and used the Pulwama incident for his personal political gains. He said that until the elections are over in India, there appear to be difficulties in moving forward towards peace.

"Pakistan desires resolution of all disputes with India, including that of Jammu and Kashmir, through dialogue," said Fawad, adding that Islamabad has offered to become a partner in fighting terrorism.

He, however, said that if a war is imposed, "we know how to respond and fight wars".  Rejecting Indian allegations about the Pulwama incident, he said India always tried to blame Pakistan for any act of terrorism. "Indian atrocities in occupied Kashmir have created hatred amongst the Kashmiris for India," noted the PTI leader.

He said Prime Minister Imran Khan had offered investigation into the Pulwama incident and also sought evidence but the Indian side had not responded to the offer.

Responding to a question, the information minister said India actually sponsors terrorism in Pakistan.  Referring to the arrest of Indian spy Kulbhushan Jadhav, he said there was enough evidence to prove that India was sponsoring terrorism in Balochistan.

Fawad said, "We want strong economic relations with the US, based on mutual interest and respect, and also want the same relationship with Russia."

He further said that Pakistan had received a lot of world support during the standoff with India. "Russia offered mediation whilst US President Donald Trump stressed restraint." On relations with Beijing, he said Pakistan and China enjoy historic relations.

(With additional input from DNA)


COMMENTS
Comments are moderated and generally will be posted if they are on-topic and not abusive.
For more information, please see our Comments FAQ