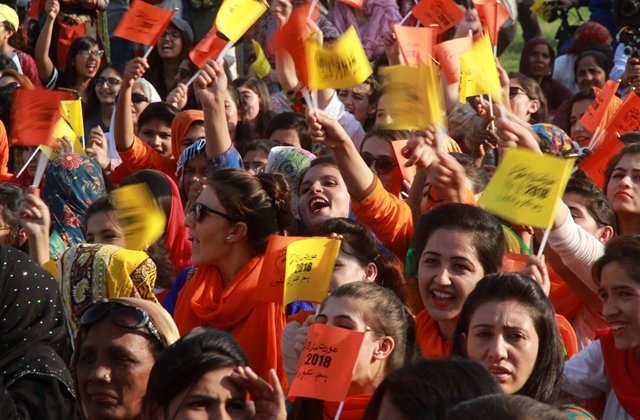 ---
KARACHI: Aurat March kicked off this year with a frenzy of colour, creativity and the combined voices of women across the country marching for their rights.  Rallying in cities across Pakistan as part of the women's march to mark the International Women's Day, women regardless of class, creed or religion came together to highlight some key issues within our society.




#WhyIMarch

 The Aurat March was organised by feminist collective Hum Aurtain, with a manifesto demanding basic rights in every field.

This year, #WhyIMarch became the social media hashtag and slogan for the event, with many celebrities, human rights activists, and locals sharing their stories of why they marched.

Actress Hajira Yamin attended the march as the sun heated up the grassed area in front of Frere Hall.

"The reason why I'm marching today is that I want to be heard as a woman, and not just me, because to a certain extent, I am heard," she says.

Hajira paused, and continued with firmness and conviction in her voice.




"What about the average woman?  What about the other 80 per cent who are not heard? I'm here for them."

Meanwhile, two young women quietly make posters in the other corner of the oval. Their faces are etched with concentration as they scribble, colour and highlight their slogans. Quietly confident, one of the girls speaks when asked about why they are marching for the day.

"It's my life and no-one can tell me what to do," says Jabreen*.

Despite huge crowds forming around them, young women seemed to make a sanctuary for themselves - a creative space on the grass amidst the noise.

"I should be able to make my own decisions, make my own mistakes and learn from them.'"

Younger generation

Nearly 5,000 women, children and men took part in the women's march in Karachi last year.  It was the first year of the event.  As social media awareness grew, voices and creativity grew with it.  In 2019, the march expanded to other cities such as Lahore, Islamabad, Quetta, Hyderabad, Peshawar and Faisalabad - with the younger generation attending in droves and colour to join the movement for gender injustice.




"I want a future for myself, I do not want to be afraid of who I am, afraid to live, afraid to exist." - Marsha

Primary school girls also rode into the march on their bikes, holding slogans and posters against issues such as acid attacks, honour killings and psychological abuse.  The hero of their own narratives, they ride into the march with their mothers and teachers like knights in shining armour.

In pictures: International Women's Day celebrated across the world

 Marginalised communities finding "a safe space"

Marginalised communities also took centre stage with some vivid posters. The transgender community, non-binary and gender-fluid persons attended the event to occupy public spaces that are not always welcome to them.

With a "Embrace the Spectrum" sign flying high over the crowds, attendee Mahum* says safe spaces are extremely important for these groups of people who often don't have the opportunity to express themselves openly.




"As a Pakistani agender, I am barely represented, or acknowledged for my representation of gender," she says.

"I'm reclaiming my space, I'm getting to express myself openly, and I can be safe here and not be harmed for who I am."

Domestic help fight for a minimum wage

The Aurat March is also a space where women such as domestic help feel comfortable to let their voices be heard.  According to studies, the majority of working women in Pakistan are condensed in the informal sectors of the labour market, where they are often paid less than the minimum wages recommended by the government. The conditions can also be unpredictable, hazardous and also unreliable; with no medical benefits, no job security, job discrimination and minimal support from male-orientated labour unions.




Rani*, one of the veiled women holding up the Urdu signs, marched because she demands that domestic help should receive a minimum wage of at least Rs16,000.  But she wasn't at the march just for this. She was also there to speak for her daughter, and more access to education for girls.

"I'm marching for my daughter's study and education," she said.

"We men, can also be feminists"

Some men also took a stance against gender discrimination and the importance of showing solidarity with women fighting for their rights. Anas*, a young man accompanying a woman with her own slogan saying 'equal rights for others does not mean less rights for you...it's not a pie.' - also had his own contribution with a witty and rhyming slogan.

"Men of quality shouldn't fear equality, because it goes both ways to help each other grow and to do well," he says, while the female friend did not wish to comment.




Meanwhile, Asad* strode into the march with what both seemed to be passion and vehemence.  Out of breath from excitement, the student says it was his first time attending the Aurat March.

"I am here to show solidarity.  To make sure that men who come here aren't just trying to get into the good books of women," he said with conviction.  He continued to talk about the role men should play in gender equality and how Pakistani men can be, according to him, feminists themselves.

"We men, can also be feminists without gaining any sort of external validation from anyone else."




The organisers of the Aurat march say they wanted to make sure every woman was represented.

Marching into the sunset

As the burnt orange sunset approached the march around Frere Hall, the people came together holding up slogans and chanting.  "Hum chheen kay laingay azaadi," shouted the hundreds of women, men and transgenders collectively.




As the crowd marched in solidarity with their creative slogans, their voices, and their passion, it was hard not to find something beautiful in the unity of Aurat March.  Perhaps the march doesn't represent feminism for some, but it does one thing that may seem right.  In a nation that can be heavily divided by culture, religion, sexual preference, gender, and class, Aurat March is one of those rare moments that brings people together.  As Pakistanis, as people, and simply, perhaps, as human beings fighting for human things, singing along the same beat.

Have something to add to the story? Share it in the comments below.
COMMENTS
Comments are moderated and generally will be posted if they are on-topic and not abusive.
For more information, please see our Comments FAQ