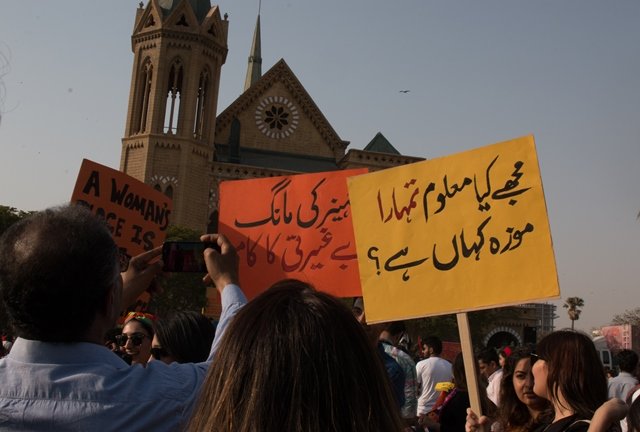 ---
KARACHI: Hundreds of women, transgender and non-binary persons took to the streets of Karachi on Friday, calling for an end to gender-based violence and discrimination while celebrating womanhood and gender equality.

The event, organised by Hum Aurtein, was the 2nd annual march for women's rights held on the occasion of the International Women's Day on Friday.

The Aurat March 2019 held at Frere Hall aimed to highlight the plight of women and other gender minorities and raise a voice against the pressing issues of gender-based violence targeting the most oppressed and vulnerable in society.


The participants, who included an overwhelming majority of women and children, sat on the grass and on chairs placed in the garden area as speakers addressed them from a makeshift stage. There was singing. There was dancing. There was even a tableau. But mostly, there was a whole lot of sloganeering, calling for an end to the patriarchal structure prevalent in society.


The women enthusiastically waved about placards bearing creative slogans such as, "Khana khud garam karna seekh liya? [Did you learn to heat your own food yet?]" and "Yeh sarak utni hi meri maa ki hai jitni tere baap ki [This street is as much my mother's as your father's]".


The idea

"The Aurat March is important in the sense that it allowed women and people from marginalised communities such as transgender, non-binary and gender-fluid persons to come out and occupy those public spaces that are not usually welcoming to them," explained Aiman Rizvi, one of the organisers. "The conversation itself that we have while mobilising and organising the march has helped us develop a feminist collective, called Aurat Haq, which aims to keep the demand for women empowerment all year around," she added.


Sana Naqvi, another organiser, said that last year, the first Aurat March had a profound impact on her because a lot of issues were raised that were very important to all women. "So for example the placard, 'Khana Khud Garam Karo' (Heat up your own food) made people talk about gender roles," she said. "The march itself is giving space to women and gender non-binary people to express themselves, with the knowledge that standing side by side, women can achieve anything," she said.


Minahil Baloch, a young activist, said she had come to the march to highlight the issues facing the Baloch people and voice the concerns of the families of missing persons that were not being taken up by the mainstream media.

Human rights

"We portray Baloch women as if their honor and dignity is all in their dressing, which isn't true because historically if we see Baloch women, they have always been free women," she remarked. "We are here at the march to reclaim that freedom," she added.


Bindya Rana, a transgender activist, spoke of her struggle for the rights of the transgender community. Addressing the participants, Rana recalled that when she had first ventured out to speak about the issues facing transgender persons back in 2012, she was called all sorts of derogatory names and questioned on the importance of standing up for transgender rights. "Wait and watch, when we [transgender folks] will get together, we will leave no space that men occupy," she had told them.

The power of social media this International Women's Day

"Today, we have come a long way. I see people talking about transgender rights, our health, education, Hajj quota and even a bill has been passed by the Senate for transgender rights. There are many models, politicians and educated transgender persons occupying different professions… gone are the days when Jirga (tribal meetings) were held and decisions on the life and death were made for women" she said.


"It is women that raise us, it is women that provide us with education and it is women that enlighten us," she exclaimed. "I call for our politicians to increase reserved seats and employment quotas for women and differently-abled people. Our nation can only progress if its women are empowered," she added.


Representing the Christian community, Pastor Ghazala Shafeeq said that she had come to the march to speak out against oppression and violation of women's rights. The situation of rights of minority women is an even more appalling state, she said, adding that even though the law had set the legal age of marriage at 18 years, minor girls belonging to religious minority communities were still being abducted and forced to convert and marry against their will. "They are presented in the court by the police and announced that she has converted of her own will," she lamented. "The judges and courts remain silent because the girl belongs to a religious minority group. The law of the land itself remains oblivious of her plight," she added.

Police jump the bandwagon

Earlier in the morning, women police officials participated in a walk from the Do Talwar roundabout to the Licence Branch office to mark Women's Day. They were joined by Sindh Police chief IGP Dr Syed Kalim Imam, Karachi Police chief AIG Dr Amir A Shaikh and other senior officers, besides members of the civil society. The walk culminated at the License Branch office and was followed by a seminar held at the Salim Vahidy auditorium.


Addressing the event, Dr Imam paid tribute to the women police officers for their hard work, adding that they had proven themselves and it was on a merit basis that the number of women assistant sub-inspectors was being doubled. "In Sindh, we have already increased the job quota for women in the police department from 5% to 10%," said the police chief, adding that the nation could not simply ignore the fact that no struggle could succeed without women.

[/fbvideo]

Published in The Express Tribune, March 9th, 2019.
COMMENTS (1)
Comments are moderated and generally will be posted if they are on-topic and not abusive.
For more information, please see our Comments FAQ