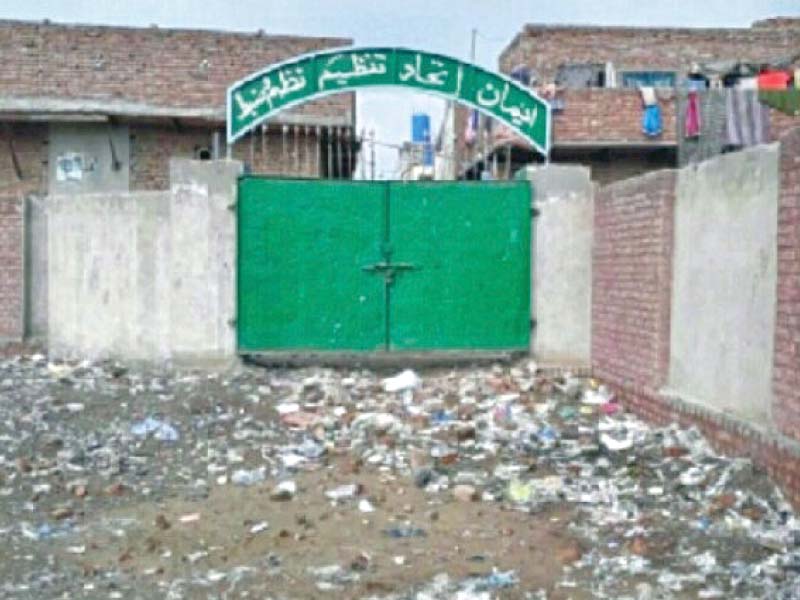 ---
CHICHAWATNI: The indiscriminate dumping of garbage in and around the premises of the Government Girls Primary School in Chichawatni's Mohallah Muhammad Abad poses serious health hazards for students and faculty members. Heaps of garbage can be seen dumped at the site, but officials concerned failed to pay any heed or address the matter.

A visit to the area by Express News revealed that a number of locals and commercial establishments, particularly eateries, tea-shops and bakeries, are dumping garbage in and around the premises of the school where more than 300 students are enrolled. As the local administration does not carry out regular cleaning, the garbage remains uncollected for weeks and months. As a result, many students have stopped attending school as their parents won't allow them to study in such terrible conditions.

"The situation has worsened now since the local administration has failed to remove the garbage for the past several weeks," Arshad Butt, a local resident said. He added that a foul smell emanates from the rotting garbage which has only created difficulties not only for students, but also people living in the area."

Another resident, Imran Jalil, said, "The Tehsil Municipal Committee has made the school a point for dumping garbage. By looking at the unhygienic condition of the school, it seems that the government's campaign of clean and green Pakistan has failed to yield fruitful results."

Meanwhile, the garbage has also attracted flies and mosquitoes that have made the lives of the local residents miserable.

Farhana, who lives at a few metres away from the school building, said the garbage is dumped on a regular basis on the school premises. She urged authorities to immediately remove it and carry out a spray campaign to kill germs.

She pointed out if the garbage is not removed, it could lead to outbreak of different diseases.

The school authorities and parents brought the issue to the knowledge of officials in the district administration on several occasions, but to no avail.

School authorities and parents have urged the Punjab chief minister, Sahiwal deputy commissioner and others to initiate stern action against those found dumping garbage in the school. They also wanted the local administration to ensure regular garbage collection in the area.

Published in The Express Tribune, March 9th, 2019.