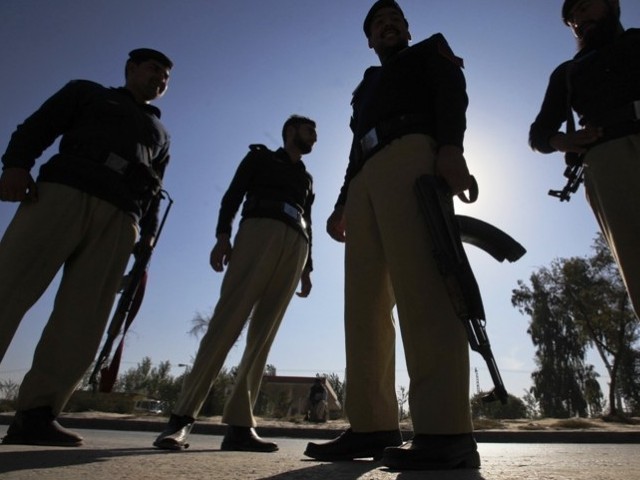 ---
KARACHI: The four suspects killed by the police in two alleged encounters in Gulshan-e-Jamal and Dalmia on Wednesday have been identified. Police say that the deceased had been involved in several cases of crimes as well as the murder of a police official and a security guard. Several other cases were registered against the suspects, the police claimed.

The encounter

On Wednesday, Sharae Faisal Police had claimed that four persons on two motorcycles had entered the streets of Gulshan-e-Jamal and attempted to rob citizens. They were trying to break into a house with the intention of robbery when the police arrived. The suspects opened fire at the police and attempted to escape but they were chased by the police who managed to encircle them in the next street.

Three dacoits killed in Karachi police 'encounter'

Of the four suspects, three were arrested in an injured condition while the fourth had managed to escape. SHO Safdar Mashwani had claimed that the injured were being taken to the Jinnah Postgraduate Medical Centre, but they succumbed to their injuries on the way.

Another suspect was killed in a police encounter at Dalmia. Police claimed that the suspect was trying to loot a citizen when the police reached the site. The suspect opened fire at the police, who retaliated with gunfire and shot him dead

Identification

On Thursday, police identified the suspect shot dead in Dalmia as Nadir Chapra alias Arbab Drugs, son of Bakhsh. Meanwhile, the three suspects killed in the Gulshan-e-Jamal encounter were identified as Bilal, Abdul Rehman and Muhammad Tariq.

According to East Zone SSP Ghulam Azfar Mahesar, Chapra was a notorious drug peddler, who used to supply weed, crystal meth and heroin. He used to run drug dens in Pak Colony and Soldier Bazaar and was also involved in the murder of police official, Sohail Khan, who was shot dead on September 26, 2018, in Soldier Bazaar. The accused had managed to escape from the crime scene then. He was also involved in several other cases of crime.

Three 'robbers' killed in alleged police encounter

Meanwhile, the three suspects killed in the Gulshan-e-Jamal encounter were wanted to the police in several cases. There were at least four prior cases registered against Bilal in Frere, Shahra-e-Noor Jehan, Preedy and FB Area police stations, two cases against Abdul Rehman in Shah Faisal Police Station and another in Pirabad Station and six cases against Muhammad Tariq Pirabad station and one in Gulshan-e-Iqbal Police Station. SSP Mahesar said that Tariq had also killed a bank security guard during a robbery bid.

Published in The Express Tribune, March 8th, 2019.
COMMENTS
Comments are moderated and generally will be posted if they are on-topic and not abusive.
For more information, please see our Comments FAQ