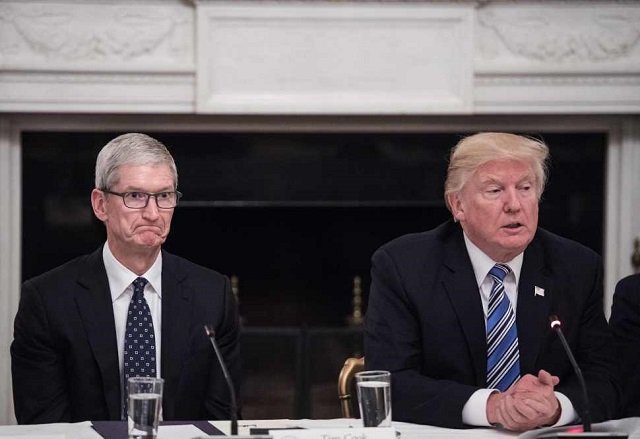 ---
US President referred to the CEO of Apple, Tim Cook as "Tim Apple" and casually carried on with the meeting of the American Workforce Policy Advisory Board at the White House.

The meeting was to discuss the importance of technology when it comes to education held on Wednesday which was the first one to be held to find solutions and prepare millions of Americans to understand automation and artificial intelligence in the workplace.

Apple issues fix for FaceTime eavesdropping bug

Cook's speech about how he wants to teach kids coding before they graduate from K-12 to "become somewhat proficient at it" by later in their lives was met with Trump's response where he said "We have so many companies coming in. People like Tim, you're expanding all over and doing things that I really wanted you to do right from the beginning. I used to say, 'Tim, you've got to start doing it over here,' and you really have. I mean, you've really put a big investment in our country. We appreciate it very much, Tim Apple."

President Trump is known for using nicknames and 'mispronouncing names' of rather known people such as "Jeff Bozo" in reference to Jeff Bezos of Amazon. "Tim Apple" though was a new nickname that no one had ever heard before.

Apple to launch three iPhones with new camera features this year

Earlier in 2016, Trump has been critical of Apple and the ideology since Apple refused to unlock a user's iPhone for the FBI, so much so that Trump even called for a boycott of the company's products. And when Trump was running his presidential campaign, he tweeted that he had sold his stock in Apple as the company wasn't making bigger phones "like Samsung."

I predicted Apple's stock fall based on their dumb refusal to give the option of a larger iPhone screen like Samsung. I sold my Apple stock

— Donald J. Trump (@realDonaldTrump) January 28, 2014

Previously, the software bug, which had let users hear audio from people who had not yet answered a video call, was discovered by a Tucson, Arizona high school student Grant Thompson, who with his mother Michele led Apple to turn off FaceTime group chat as its engineers investigated the issue. The technology giant said it would compensate the Thompson family and make an additional gift toward 14-year-old Grant's education.





This article originally appeared on CNBC.
COMMENTS
Comments are moderated and generally will be posted if they are on-topic and not abusive.
For more information, please see our Comments FAQ