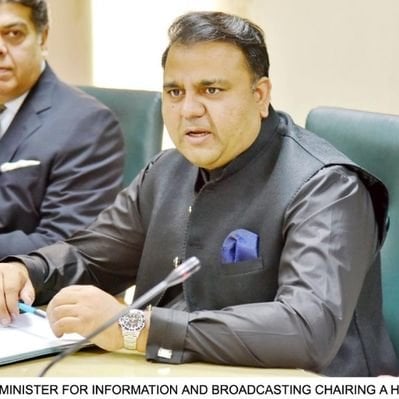 ---
Information Minister Fawad Chaudhry has criticised rival political parties for opposing the 'popular' call for Nobel Peace for Prime Minister Imran Khan.

Taking to Twitter on Wednesday, the federal minister said that the opposition would never be willing to nominate the prime minister for the prestigious award for saving the region from war destruction but they would only recommend the premier for the award if PM Imran agrees for NRO-type deal.


ہماری اپوزیشن عمران خان کو دینا کو تباھی سے بچانے کیلئے کردار ادا کرنے پر تو نوبل دینے کو تیار نہیں ہو گی ، لیکن نوبل تو کیا ساری دینا کے ایوارڈ دینے کو تیار ہو گی بس عمران خان ان کو NRO دینے کیلئے مان جائیں۔

— Ch Fawad Hussain (@fawadchaudhry) March 6, 2019


The tweet comes after the opposition slammed the ruling Pakistan Tehreek-e-Insaf (PTI) for suggesting Nobel Peace Prize for Premier Imran.

Addressing the National Assembly session, Pakistan Peoples Party (PPP) Chairman Bilawal Bhutto Zardari fired a broadside at the prime minister saying that the decision to release the Indian pilot was a risky as it was "taken in haste".

PAF strikes Indian targets across LoC, two IAF jets shot down

Pakistan Muslim League-Nawaz (PML-N) senior leader Ahsan Iqbal also took a jibe at the ruling party for demanding Nobel Peace Prize, saying it was very shameful for the premier of nuclear-armed state to call his Indian counterpart despite knowing he was not willing to talk.

#NobelPeaceForImranKhan became top trend on the micro-blogging website after the premier announced to release captured Indian Air Force pilot in a bid to de-escalate the tension between the two neighbouring countries which earned him much appreciation across the globe including from India.

Subsequently, the information minister also submitted resolution in the National Assembly requesting a Nobel Peace Prize for the premier.

However, PM Imran tweeted on Monday saying he is not worthy of given the Nobel Peace Prize.

He wrote on Twitter: "The person worthy of this [Nobel Peace Prize] would be the one who solves the Kashmir dispute according to the wishes of the Kashmiri people and paves the way for peace and human development in the subcontinent"


میں امن کے نوبل انعام کا حقدار نہیں۔ نوبل انعام کا مستحق وہ شخص ہو گا جو کشمیری عوام کی امنگوں کی روشنی میں تنازعہ کشمیر کا حل تلاش کرے گا اور برصغیر میں امن و انسانی ترقی کی راہ ہموار کرے گا۔

— Imran Khan (@ImranKhanPTI) March 4, 2019
COMMENTS
Comments are moderated and generally will be posted if they are on-topic and not abusive.
For more information, please see our Comments FAQ