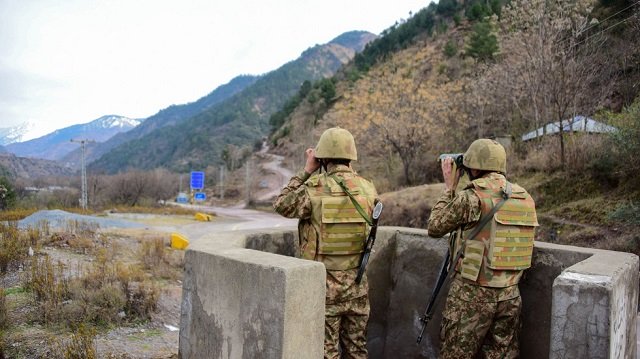 ---
 ISLAMABAD  : Two Pakistan Army soldiers embraced martyrdom in unprovoked and indiscriminate firing by Indian forces along the Line of Control (LoC) on Saturday, said a statement released by the Inter-Services Public Relations (ISPR).

The latest act of aggression by India came a day after Pakistan released an Indian Air Force (IAF) Wing Commander who had been shot down while engaging Pakistan Air Force (PAF) jets.

The army's media wing named the martyred soldiers as Havaldar Abdur Rab and Naik Khurram.

Hotspring, Tatta Pani and Jandrot sectors of the LoC came under Indian fire and the civilian population residing in the areas was also hit by Indian shelling as a result of which at least two civilians were martyred and just as many injured.




Havaldar Abdur Rub and Naik Khuram. -ISPR

In response, the Pakistan Army targeted the Indian posts and "gave a befitting response" following which there were reports of Indian casualties and damage to their posts.

According to intelligence sources, India suffered 15 casualties.

The injured were shifted to a hospital in Kotli.

The two soldiers were martyred as they defended the country in the Naikal Kotli sector. According to details, a series of LoC violations were committed by the Indian forces in the sector immediately after the release of the Indian pilot, Wing Commander Abhinandan, around 10:30 last night. The soldiers martyred, both from Dera Ghazi Khan, were Naik Muhammad Khurram and Havaldar Abdur Rab. Khurram is survived by two sons and a daughter while Rab is survived by two daughters.

'Won't allow Pakistani soil to be used for terrorism against any state'

Speaking on his son's martyrdom, Khurram's father, Abdul Majeed, said that two of his sons had been serving in the military, adding that it would be a source of great pride for him if both of his sons were to embrace martyrdom in the country's defence. He further expressed his resolve to lay down his own life, if necessary, for the nation's defence. Funeral arrangements for the martyrs are to be announced after their bodies reach their ancestral village.

Pakistan had, on Friday, returned the captive Indian pilot as a gesture of peace. He had been in Pakistani custody – after having been shot down by the PAF – for 58 hours.

The military's media wing added that the armed forces, including the Pakistan Air Force and the Pakistan Navy, remained on alert.

Imran Khan wins praise over captured pilot's release

Tensions between Pakistan and India escalated rapidly following a suicide car bombing that killed at least 44 Indian paramilitary police in IOK on February 14.

Two IAF aircraft had been shot down on Wednesday by the PAF and Indian targets across the LoC struck by Pakistani fighter jets from within friendly airspace as the country's armed forces had struck back after unprovoked Indian aggression a day earlier.
COMMENTS (1)
Comments are moderated and generally will be posted if they are on-topic and not abusive.
For more information, please see our Comments FAQ