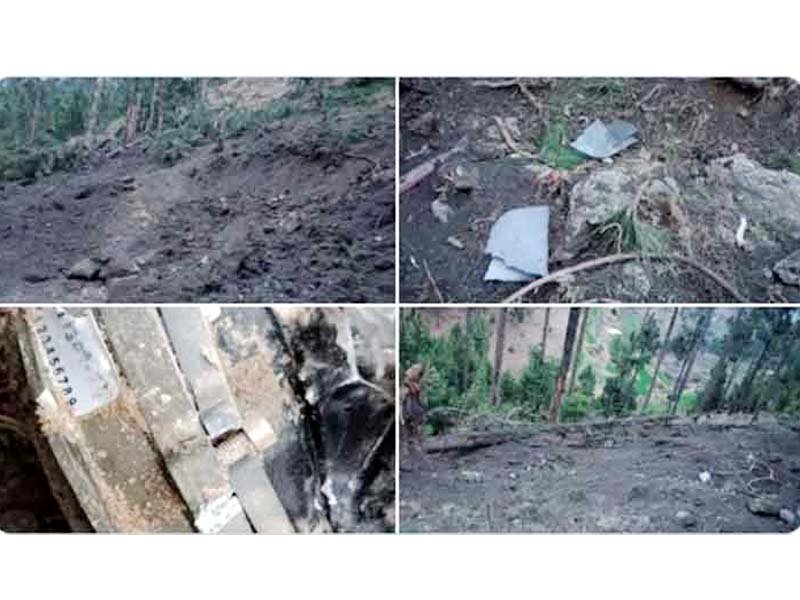 ---
KARACHI: Though Tuesday's wanton violation of Pakistan's airspace by Indian warplanes didn't cause any major damage or casualties, it raised questions why they could not be taken down.

Former Pakistani fighter pilots explained why any air force would have found it impossible to shoot down the aircraft that carried out the kind of reckless airspace violation that India conducted on Tuesday.

Talking to The Express Tribune, Air Commodore (retd) Jamal Hussein and Wing Commander (retd) Muhammad Naseem Ahmed shed light on what it means for responding to different kinds of threats Pakistan may face from India.

"In the air force, we have three levels of readiness depending on the kind of situation that exists," said Air Commodore Hussein. "In a peacetime situation, normal practice is to have three to four fighter jets on five-minute standby at all times at main PAF bases."

"This means that three to four fighter pilots are ready in full kit at an airbase and can take off in five minutes if they receive an order to scramble," he explained. "Moreover, pilots on some airbases are on 30-minute standby. They are under orders to remain on the base and maintain telephonic contact, so that if ordered, they too can be airborne within 30 minutes," he added.

According to Air Commodore Hussein, the second readiness level applies during military exercises or high alert situations. The latter is when there is a possibility of threat, but the nature and likelihood is unclear.

'India attack' laid waste to my Billion Tree Tsunami project, quips PM Imran

"In this scenario, two to four pilots will be on cockpit standby, ready to take off within two to three minutes. Additional pilots may or may not be placed on five-minute standby if the situation escalates," he said.

He said the third readiness level applies to wartime scenarios. "In this situation, the air force will have two to four fighter jets on cockpit standby and four to six jets on five-minute standby at all times."

"In addition to this, some aircraft will be on airborne standby close to the border and the Line of Control. This is because it takes any jet roughly 10 minutes to reach altitude and accelerate," he added.




Wing Commander Naseem gave a similar account for air readiness levels. "It all depends on the situation. For instance, if Indian jets take off towards the LoC or International Boundary, an air defence alert goes out to major PAF bases. PAF jets are in the air within three to five minutes as soon as this alert is received," he said.

"In a state of war, however, you have at least three warplanes performing what is known as combat air patrol (CAP)," he added. "This means these jets are in the air and armed with air-to-air weaponry to take out any enemy aircraft. Moreover, at least three other fighter jets are in standby mode on the ground."

No blood. No bodies. No debris. No tragedy

According to Air Commodore Hussein, when Indian Air Force jets violated Pakistan's airspace before dawn on Tuesday and dropped their payload at Jabba, Balakot, the PAF might have been at emergency readiness levels, not wartime levels.

"This might have made it impossible to intercept the Indian jets. Any air force would have found it impossible to take them down," he added. "On Tuesday, we were not in a stage where the PAF would be given CAP orders," said Wing Commander Naseem.

"If you look at the map, the LoC is a zigzag. Both Pakistani and Indian forces are stationed very close to each other on either side of this line. This poses a problem," he said.

"Any small turn by any aircraft of either side can lead to an airspace intrusion. The speeds jets fly at and the distances involved mean airspace violations are routine."

Wing Commander Naseem further explained that it is also very difficult to ascertain the degree of the violation committed given the nature of flight. "Given this, one should understand that neither side can generally afford to make a mistake that can trigger war," he said.

"Both PAF jets and their Indian counterparts lock on to each other on radar all the time. What we don't usually do is fire missiles at each other. Our instructions are to warn the aircraft violating our airspace."

Air Commodore Hussein insisted that Tuesday's airspace incursion was carefully calculated by India. "They chose Balakot as a target because they figured they had a small window of around five to seven minutes where they could not be intercepted by PAF," he said.

"The nearest PAF base to Balakot is some 70 to 80 kilometres away. While PAF jets were able to take off between two to five minutes, it would still have taken them another three to five minutes to reach a position to intercept the intruding Indian jets," he added.

When asked why the PAF does not perform CAP at all times, Wing Commander Naseem cited economics. "Keeping an aircraft in the air is a very very costly affair. Given the fuel and other costs, it would be extremely expensive to keep some fighter jets airborne all the time."

In response to another query, he told The Express Tribune that there is no way to tell whether an intruding aircraft has dropped a payload without visual confirmation.

Quoting military spokesperson Maj Gen Asif Ghafoor, Air Commodore Hussein said the IAF also sent a 'diversionary flight' towards Lahore around the time it carried out the incursion towards Balakot.

"This meant the PAF's attention might have been split between Balakot and Lahore," he said. "Still, if you notice, India could not attack Balakot because PAF responded faster than they expected. They had to drop their payload at Jabba, which is at a considerable distance from Balakot."

So what was different on Wednesday?

"After India carried out Tuesday's aggression, we were practically in a wartime situation," said Air Commodore Hussein. "On Wednesday, PAF fighters might have been instructed to fire after they locked on to Indian jets," added Wing Commander Naseem.

Sharing his assessment of the events, Air Commodore Hussein suggested that the PAF possibly laid out a trap for the Indian jets to intercept them.

"It is my belief that we carried out long range ground strikes in Indian Occupied Kashmir from our own airspace to lure IAF jets scrambled in response," he said. "As soon as PAF fighters on airborne standby picked up the Indian warplanes, they were ordered to take them out."

"I believe the PAF shot the enemy jets down using beyond visual range (BVR) missiles," he added.
COMMENTS (1)
Comments are moderated and generally will be posted if they are on-topic and not abusive.
For more information, please see our Comments FAQ