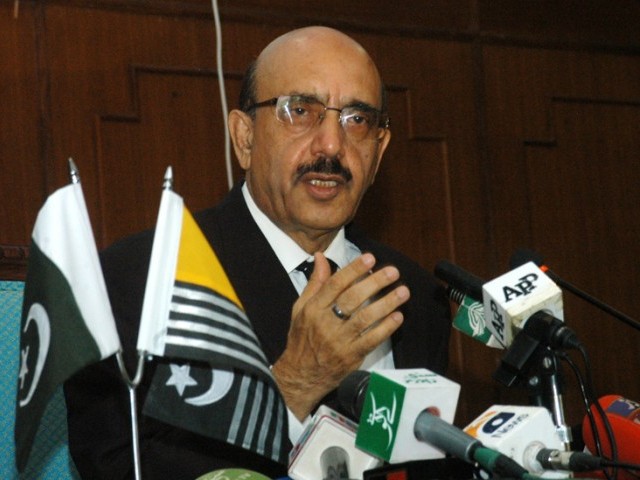 ---
MUZAFFARABAD: Azad Jammu and Kashmir (AJK) President Sardar Masood Khan has said India was playing a dangerous game by stoking the fire of hatred and hurling war threats on Pakistan that can be proved counterproductive and "reduce India to ashes".

"It is easy to spread hatred, prejudices and religious animosity, but hard and painful to swallow its bitter fruits. The culture of extremism and warmongering can tear apart the fabric of Indian society and reduce India to ashes," President Masood said while addressing a gathering of journalists and members of civil society after opening an office of a national daily newspaper here on Saturday.

Describing Azad Jammu and Kashmir as a "habitat of warrior races", where people are inborn soldiers, he said India will be taught a lesson if it dared to thrust aggression upon Pakistan or AJK. India should keep in mind that people liberated this area by defeating Dogra forces and they are still fully capable of defending every inch of their motherland.

India airlifts thousands of paramilitary troops to occupied Kashmir

He said Indian motives of falsely implicating Pakistan in Pulwama incident had not only put Indian in an embarrassing position but also paved way for highlighting the Kashmir issue at international level.

On Friday, the United Nations Security Council (UNSC) condemned the Pulwama attack but did not mention Pakistan despite India's efforts to associate the neighbouring country with the incident without any evidence.

The AJK president urged the media to emphatically project Pakistan's stance on Kashmir at national and international level so that the world would know the truth and condemn the occupation forces for committing gross human rights violations in the occupied valley.

The president said collaborative efforts by the government, media and civil society were needed to alleviate the sufferings of those living under the shadow of unrelenting violence, suppression, and coercion.

The ceremony was also addressed by Asian News Editor Dr Abdul Wadood Querashi, former AJK ministers Khawaja Farooq and Devan Ali Chughtai, former member AJK Council Rafaqat Awan, Former Central Press Club President, Wahid Iqbal Butt and representatives of various journalist organisations.
COMMENTS
Comments are moderated and generally will be posted if they are on-topic and not abusive.
For more information, please see our Comments FAQ