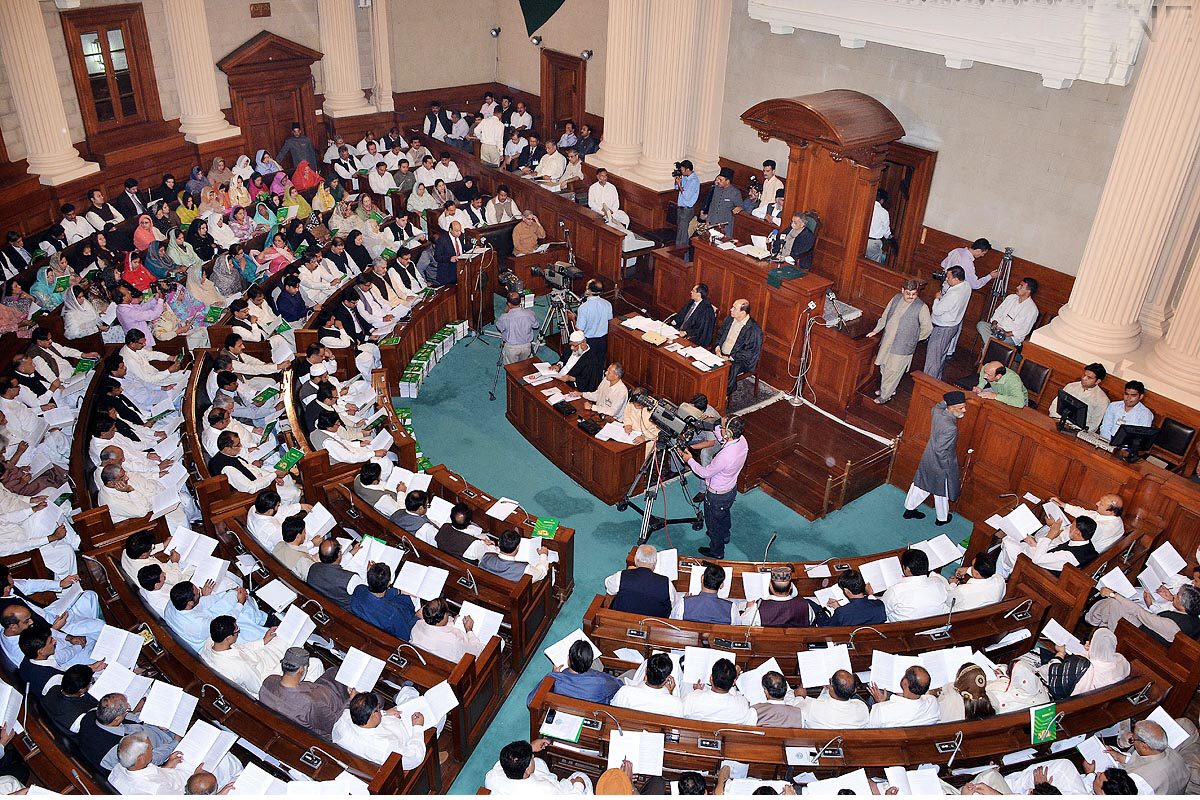 ---
LAHORE: As opposition lawmakers slammed the arrest of Sindh Assembly Speaker Agha Siraj Durrani by the National Accountability Bureau (NAB), the treasury benches urged them not to resort to political point-scoring.

They proposed a 'self-accountability system' among political ranks. As proceedings commenced, Pakistan Peoples Party's (PPP) parliamentary leader Syed Hassan Murtaza, on a point of order, reacted strongly to Durrani's arrest.

He asked "what sort of message was being sent to the small provinces". He said if arrests were being made purely on the basis of merit, then Khyber-Pakhtunkhwa's chief minister, defence minister, Babar Awan and Prime Minister Imran Khan were also at risk.

"Why are these people not being arrested?" he asked. He said if things remain unchanged, gallows should be set up at Charing Cross.

'Assets beyond means' land Sindh Assembly speaker in NAB custody

As he announced a walkout from the house, the opposition followed suit. Soon after, the irate MPAs were persuaded to return. Former PTI senior minister Abdul Aleem Khan took the chance to defend allegations against him of accu

mulating assets beyond his known means of income. "I can swear that I have never been involved in any kind of corruption. Neither have I taken a bribe nor have I bribed anyone else. I have never misused my powers for vested interests since I joined politics," Aleem Khan stressed.

Pakistan Muslim League-Nawaz's (PML-N) firebrand MPA Azma Zahid Bukhari said politicians were soft targets and it was easy to make them the subject of humiliation under the garb of a corruption investigation. "Has any army general been punished over corruption charges?" she asked.

In the same breath, she also challenged the house to name a single person who does not fall under the so-called "assets beyond known sources of income" charges. PML-N's former provincial ministers Khalil Tahir Sandhu and Khawja Salman Rafique said they had done nothing wrong and were victims of "NAB's draconian laws".

Salman Rafique also expressed his dismay over the failure to issue a production order for his elder brother Khawaja Saad Rafique. PML-N's Mian Naseer termed NAB "an accountability drama" and de
manded registration of FIRs against officials who entered Durrani's house by flouting all moral values.

PTI's Nadeem Qureshi, Uzma Kardar and Shahida Ahmed reacted strongly over the demands of opposition lawmakers to amend NAB laws. They asked what measures PML-N and PPP had taken previously in this regard. Shahida Ahmed dispelled the impression of PML-N's Azma Zahid
Bukhari of everyone falling under charges of assets beyond known sources of income. Punjab Law Minister Raja Basharat said if these were the draconian laws, then PML-N and PPP should have done something to amend them. "We need to create a self-accountability system within political ranks," the provincial law minister said.

He added Muhammad Khan Junejo had established this system in his cabinet, adding the former PM removed one of his federal ministers over corruption charges. However, he said opposition lawmakers should support the government to revisit these laws.

Responding to Azma Zahid Bukhari's query about punishment for the armed forces and judiciary over corruption, he said she did not understand the truth. "There is a strong mechanism of accountability in the armed forces."

Later, PML-N and PPP lawmakers wanted to introduce an out-of-turn resolution against Durrani's arrest, but they failed to gather the required votes. In reaction, the opposition pointed to the quorum which the government failed to show. The deputy speaker adjourned the house till 9:00am on Friday (today).