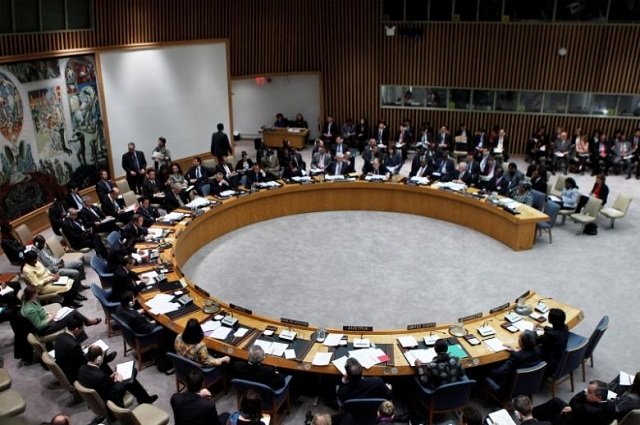 ---
The United Nations Security Council on Thursday condemned the Pulwama attack in occupied Kashmir and named Jaish-e-Muhammad as the perpetrators behind the attack, read a statement released by the world body.

The statement further "underlined the need to hold perpetrators, organisers, financiers and sponsors of these reprehensible acts of terrorism accountable and bring them to justice". There was no mention of Pakistan in the statement.

PM Imran offers India probe into Kashmir suicide attack

"The members of the Security Council reiterated that any acts of terrorism are criminal and unjustifiable, regardless of their motivation, wherever, whenever and by whomsoever committed. They reaffirmed the need for all States to combat by all means, in accordance with the Charter of the United Nations and other obligations under international law, including international human rights law, international refugee law and international humanitarian law, threats to international peace and security caused by terrorist acts," the statement read further.

The statement also urged states to "cooperate actively with the Government of India and all other relevant authorities in this regard".

The UNSC statement also reaffirmed that terrorism remains one of most serious threats to international peace and security.

FM Qureshi meets Pakistan's top envoy in India amid Pulwama attack allegations

The attack — around 20 kilometres from the city of Srinagar on the main highway to Jammu — reportedly claimed by the banned Jaish-e-Mohammad (JeM) was the worst in Indian-occupied Kashmir in three decades.

Prime Minister Imran Khan – in an address to the nation – offered India an olive branch and said Islamabad was willing to act upon 'actionable intelligence' after sections of the Indian government and media accused the country of being involved in the attack.