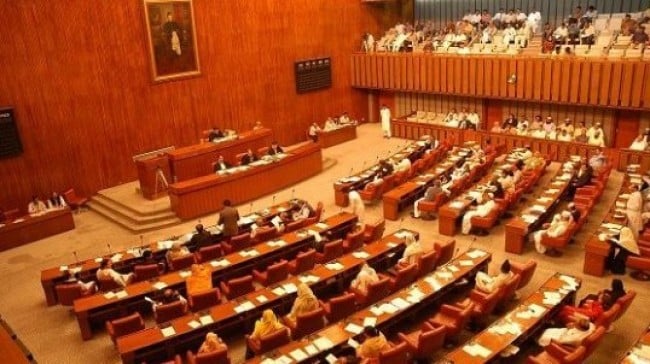 ---
ISLAMABAD: Federal Minister for Finance Dr Abdul Hafeez Sheikh on Saturday evening presented the Finance Bill 2010, including the budget document, in the upper house of parliament. The Senate will start debate on the budget on Tuesday.

The Senate Standing Committee on Finance will compile proposals and suggestions to be put forth by senators. These proposals will be submitted to the Senate and, if approved, will be sent to the National Assembly for consideration.

The Senate does not have the power to vote on the Finance Bill. It is also the prerogative of the lower house of parliament to incorporate the suggestions given by the Senate in the Finance Bill.

In Saturday's session, a number of senators spoke on the plight of the people living in the coastal areas of Balochistan which have been battered by Cyclone Phet.

Senators Kalsoom Parveen, Rehana Yahya, Hasil Bizenjo and  Sabir Baloch said that more than forty coastal villages of Gwadar, Ormara, Sonmiani and Pasni had been badly affected by the storm.

They said more than 2,500 mud houses had been destroyed by gusting winds. They claimed that the affected people were living under the open sky as the National Disaster Management Authority (NDMA) and the Provincial Disaster Management Authority (PDMA) have not provided them any relief.

Senator Lashkari Raisani said that helicopters could not reach the affected areas due to bad weather and "this is why relief and rescue efforts are being hampered."

Senator Ismail Buledi said that the Balochistan government was incompetent because it had not made preparations for the calamity despite prior warnings. Senator Jan Jamali demanded that a report on the situation be presented in the Senate on Tuesday.

Leader of the House Senator Nayyar Bokhari said that he had asked the PDMA to submit a report. He said the army and the navy had set up relief camps in the affected areas. He assured the House that a report would be presented in the House on Tuesday.

The senators then unanimously decided to donate one month's salary to the affected people of the coastal areas of Balochistan.

The Senate will resume its session on Tuesday to start debate on the federal budget for the fiscal year 2010-11.

Published in the Express Tribune, June 6th, 2010.
COMMENTS
Comments are moderated and generally will be posted if they are on-topic and not abusive.
For more information, please see our Comments FAQ