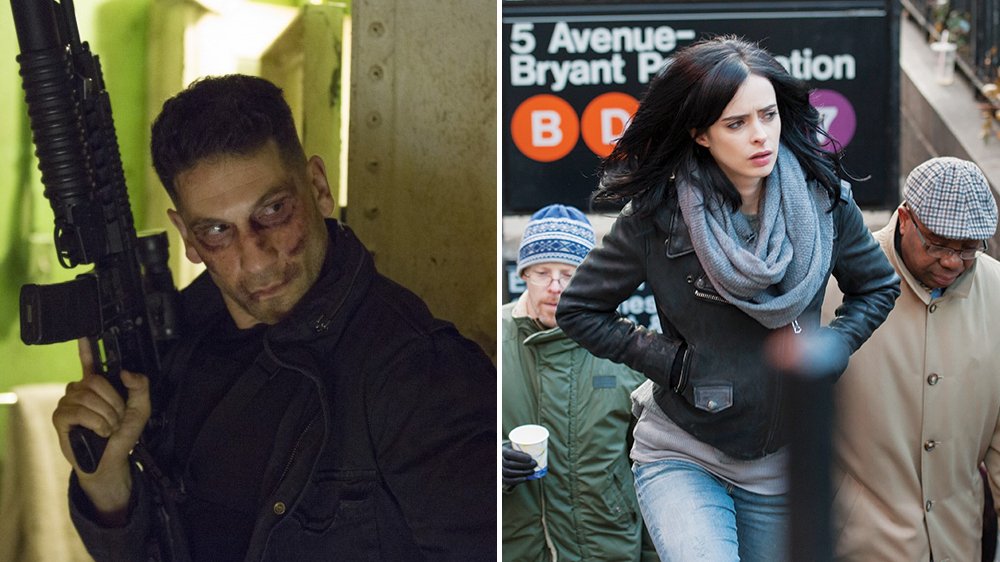 ---
The last of Marvel's Netflix shows are officially ending.

The Punisher as been cancelled after just two seasons and the upcoming third season of Jessica Jones will be its last, Variety magazine reported on Monday. The announcement comes after Netflix gave the ax to other Marvel series like Daredevil, Iron First and Luke Cage.

Spider-Man: Far From Home' trailer will have you spinning

"The Punisher will not return for a third season," Netflix said in a statement. "Show-runner Steve Lightfoot, the terrific crew, and exceptional cast, including star Jon Bernthal, delivered an acclaimed and compelling series for fans, and we are proud to showcase their work on Netflix for years to come."

They statement continued, "In addition, in reviewing our Marvel programming, we have decided that the upcoming third season will also be the final season for Jessica Jones. We are grateful to show-runner Melissa Rosenberg, star Krysten Ritter and the entire cast and crew for three incredible seasons of this groundbreaking series, which was recognised by the Peabody Awards, among many others."

Twitter on fire as Netflix cancels Marvel's 'Daredevil'

Marvel TV boss Jeph Loeb also published a letter to fans shortly after news broke, thanking them and saying, "Our network partner may have decided they no longer want to continue telling the tales of these great characters… but you know Marvel better than that."

Later on Monday, Ritter posted a picture from the table read of the series finale on Instagram. "The final season of Jessica Jones is coming later this year and I am proud of how we complete her journey," she wrote. "I can't wait for you all to see it."

Twitter reacts to the show cancellation:


Heartbroken that #JessicaJones is canceled, what an important show. Can't say I'm surprised but still, this one hurts. pic.twitter.com/DKiPCOF3Dl

— Chelsea Steiner (@ChelseaProcrast) February 19, 2019
Nooooo,cancelaron #JessicaJones pic.twitter.com/WyNGB6jTj7

— strange 🔪🔪 (@cath_strange) February 19, 2019
FFS #Netflix done it, they really done it, they cancelled #ThePunisher and #JessicaJones pic.twitter.com/rFtikqBrKQ

— Adam Hell (@MacJiggy) February 19, 2019


https://twitter.com/thestevemancer/status/1097652917350236160


How I felt knowing that every Marvel show on Netflix has now been canceled 😭😭 #JessicaJones #ThePunisher #Marvel #Netflix pic.twitter.com/OYjIYKoOQQ

— Hunt Nation (@TheHunt307) February 18, 2019
I was awaiting the cancellation of #ThePunisher and #JessicaJones but in still dissapointed by it 😭😭

— 👀💫Whomst💫👀 (@KnifeWifeXx) February 18, 2019


https://twitter.com/LorMink/status/1097640999805960192


#ThePunisher #JessicaJones

Subscribers: i cant wait to see more marvel netflix.

Netflix: pic.twitter.com/1sIQ3hRxZI

— Dr hives MD (@DrHives) February 18, 2019
*Marvel series are getting cancelled in Netflix*
Dc universe: #ThePunisher #JessicaJones pic.twitter.com/HRuvZBN0it

— Pelin 🦇 (@Nerraograyghost) February 18, 2019
Seeing that #JessicaJones and #ThePunisher get cancelled on the same day I also have to go to the dentist: pic.twitter.com/KruKNnTpBU

— Bro Force Squad (@BroForceSquad) February 18, 2019


The cancellations come as Disney prepares to launch its own streaming service, Disney+, is already lining up several high-profile projects, including series based on Marvel characters like Loki Scarlet Witch and Falcon, along with the Star Wars show The Mandalorian.

Have something to add to the story? Share it in the comments below. 
COMMENTS
Comments are moderated and generally will be posted if they are on-topic and not abusive.
For more information, please see our Comments FAQ