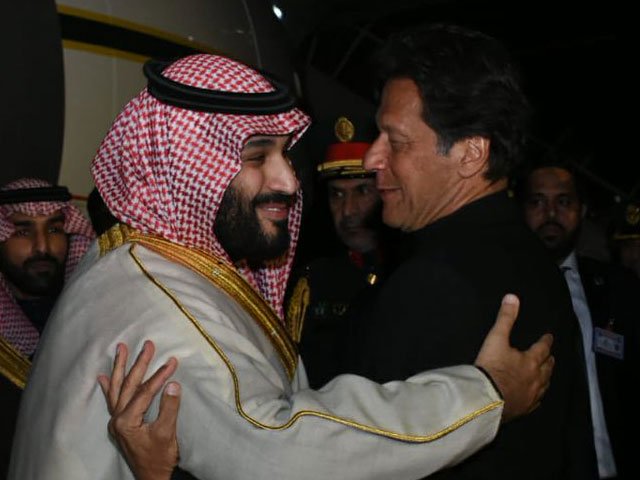 ---


Saudi Crown Prince Mohammad bin Salman, who is on an official visit to Islamabad, said on Sunday that Pakistan is going to be an important regional player in the future, and the Kingdom will not leave any stone unturned in extending support to the "brotherly country".

"We have been a brotherly country to Pakistan…we have walked together in tough and good times and will continue the same [in future]," Prince Mohammad said in his address at the inaugural session of the Supreme Coordination Council, co-chaired by Prime Minister Imran Khan and the crown prince. "We believe Pakistan is going to be very very important country in the future and we want to be sure we are part of that."

He added: "We cannot say no to Pakistan, whatever you [Pakistan] want we will do."

Expressing confidence in Pakistan Tehreek-e-Insaf (PTI)-led government, Prince Mohammad said that the first phase of $20 billion Saudi investment in Pakistan has been completed today. He hoped that Pakistan would progress under Prime Minister Imran's leadership.

[/fbvideo]

Speaking on the occasion, PM Imran said both nations had taken their relationship to "the next level" with investment in different fields such as tourism.

"The future is [looking] exciting for both Pakistan and Saudi Arabia after joining hands," he said, adding that, the crown prince has been given a rousing reception on his arrival which is testament to his popularity.

The country's premier also requested Prince Mohammad to have prospecting Hajj pilgrims be allowed to complete their immigration in Pakistan and not in Saudi Arabia.

Saudi authorities had earlier assured Islamabad of including Pakistan in its "Road to Makkah" initiative on the government's insistence. The service will offer pre-clearance of immigration for pilgrims at their respective points of embarkation. It has already been introduced for pilgrims in Malaysia and Indonesia.

The premier also asked the heir to the Saudi throne to look into the 3,000 Pakistanis languishing in the Kingdom's jails.

"They had gone to Saudi Arabia looking to only support their families back home," he said.

MoU signing

The two sides signed seven MoUs, agreements and executive programmes at a signing ceremony witnessed by the prime minister and Prince Mohammed.

The agreements cover areas such as standard specifications, mineral resources, investment in refining and petro chemical sectors, power generation, development of renewable energy projects, and cooperation in the field of youth and sports, said an official statement.

The documents were signed by the ministers of foreign affairs, finance, power division, inter-provincial coordination, and petroleum division. "These agreements will lay the foundation for enhanced economic cooperation between Pakistan and the Kingdom of Saudi Arabia."

According to sources, the agreements are worth $20 billion.

Earlier, the crown prince was greeted with a booming 21-gun salute as he arrived at the Nur Khan airbase. He was warmly embraced by PM Imran and Chief of Army Staff (COAS) General Qamar Javed Bajwa as he stepped onto a red carpet flanked by a guard of honour.


The historic arrival of His Highness, the Crown Prince of the Kingdom of Saudi Arabia, Mohammed Bin Salman to Pakistan and welcome by the Prime Minister of Pakistan @ImranKhanPTI and other dignitaries. #CrownPrinceinPakistan pic.twitter.com/IfAvCRCfsx

— PTV World (@WorldPTV) February 17, 2019
The heir to the Saudi throne is accompanied by a high-powered delegation comprising members of the Royal family, cabinet ministers and leading Saudi businessmen.

The prime minister drove the crown prince to the Prime Minister House where an official welcome ceremony was arranged.




At the official welcome ceremony, national anthems of Saudi Arabia and Pakistan were played, and the crown prince reviewed the guard of honour.

[/fbvideo]

This is Prince Mohammad's first state visit to Pakistan since becoming the heir to the throne in 2017.


Upon arrival at the Prime Minister House in Islamabad, a contingent comprising personnel of all three services presented the Crown Prince of the Kingdom of Saudi Arabia, Mohammed Bin Salman a Guard of Honor.🇵🇰🇸🇦 #CrownPrinceinPakistan #PakSaudiFriendship pic.twitter.com/iqsfzo2iS6

— Govt of Pakistan (@pid_gov) February 17, 2019


Earlier, Foreign Minister Shah Mehmood Qureshi received his Saudi counterpart Adel Al-Jubeir at the Nur Khan Airbase.



Prince Mohammad will call on President Arif Alvi at the President House on Monday.

PAF jets escort crown prince




Prince Mohammad received a glorious welcome as the royal aircraft entered the Pakistani airspace.

Formations of JF-17 Thunder and F-16 Falcons of Pakistan Air Force escorted the crown prince's special airplane.



Asad Umar meets Saudi counterpart

Earlier, Finance Minister Asad Umar held a meeting with Saudi Arabia's Energy Minister Khalid al-Falih and his team.

A range of investment projects worth billions of dollars were discussed, the minister said.


Just completed meeting with saudi minister for energy, industries and mineral resources , His Excellency Khalid Al-Falih and his team. Wide range of investment projects worth billions of dollars discussed. MOU signing later today. pic.twitter.com/dMBGSijeP4

— Asad Umar (@Asad_Umar) February 17, 2019


Pakistan rolls out red carpet for royal guest

Fit-for-a-king: The much-awaited arrival

In the past week, preparations for the Saudi crown prince's arrival were in full swing.

Ahead of the visit, the PM House saw renovations for Mohammad's stay.

Last week, two C-130 aircraft carrying eight containers full of the crown prince's personal belongings including BMW 7 Series cars and a Toyota Land Cruiser V8 SUV also arrived in the country.

Sources said items including food and toiletries were also brought in from the Saudi kingdom to ensure the crown prince enjoys a comfortable stay.




Meanwhile, at least 750 rooms have been booked in the federal capital's top eight hotels for the royal entourage.

Sources said the hotels were asked to cancel previous bookings to accommodate the royal guests. The government has also reserved 300 super luxury Toyota Land Cruiser Prado vehicles for the royal visit.

Heightened security

A 235-member delegation of the Islamic Military Counter Terrorism Coalition (IMCTC), led by Pakistan's former army chief General Raheel Sharif, visited Islamabad last week to review security arrangements for the royal visit.

The federal capital's "red zone", which houses the Parliament House and the Presidency, has been sealed off while civil aviation authorities were told to reschedule flights during the royal guests' arrival and departure.


Soldiers keep vigil at a Red Zone ahead of the arrival of Saudi Arabian Crown Prince Mohammed bin Salman (not pictured) in Islamabad. PHOTO: AFP

As part of the measures, more than 1,000 security checkpoints have been established and heavy vehicles banned from plying on important roads in Rawalpindi and Islamabad.

Meanwhile, the Pakistan Tehreek-e-Insaf government has decided to confer Mohammad will Nishan-e-Pakistan – the highest civilian award.






[/fbvideo]