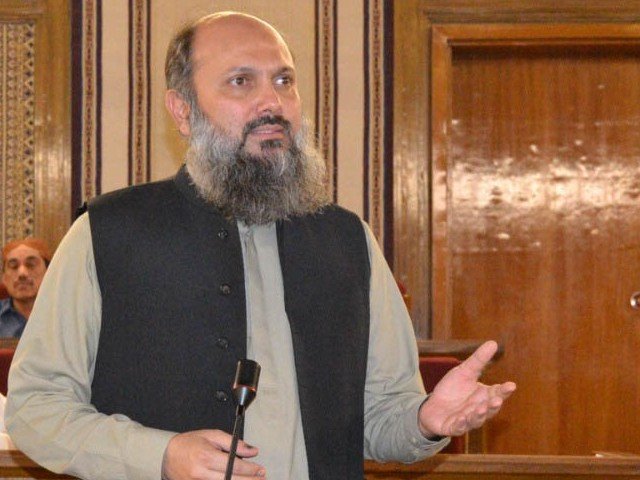 ---
QUETTA: Chief Minister Jam Kamal has said that the provincial government is making earnest efforts to ensure education, health, and clean drinking water facilities in the province.

He said this during a meeting he chaired in Loralai commissioner's office on Thursday.

Kamal said the government is keenly focusing on basic amenities of life and would not compromise on providing quality facilities to the masses.

Zhob Division Commissioner Bashir Ahmed Khan Bazai briefed the CM and cabinet members regarding development projects and the security situation in Loralai.

"High-rise buildings aren't solution to public woes but keeping them functional is our prime responsibility. Without proper functioning of institutions we can't develop our province," Kamal said, adding that no one would be allowed to take salaries without fulfilling their duties.
Provincial ministers Zahoor Buledi, Muhammad Khan Tor Utmankhail, Zia Langove, Naseebullah Marri, former MPA Sardar Muhammad Nasir, IG Police and officials of Loralai District Administration were present on the occasion.

Meanwhile, CM Kamal visited the Loralai Teaching Hospital and expressed resentment over absence of project director and ordered the health secretary to reach the district on immediate basis.

He also directed the Chief Minister Inspection Team to review the affairs of the hospital and submit the report to CM Secretariat.

During the day, a tribal jirga called on the chief minister and discussed local issues. It is pertinent to mention that Loralai is the same district where nine people were martyred in an attack at DIG office in January.

Kamal said that terrorist attacks in Loralai cannot deter the provincial government from working for the uplift of province. However, he said attempts to use terrorist attacks for political objectives is condemned. The CM paid tributes to the policemen martyred in the attack.

The CM said: "Some elements attempted to fuel unrest among people in Balochistan, they [opponent] should understand that people had elected them but failed in providing jobs to their own people". He added that no one has the right to use terrorism as a political tool.

CM Kamal pledges peace, prosperity and development in 2019

He further said that people rejected elements attempting to lure the public in the name of caste, language, sect, and nation.
Criticising previous governments, the CM said that despite having huge resources and opportunities, they "didn't do anything" for Balochistan. He blamed former public representatives for provincial deprivation.

"Our own leaders kept the province impoverished. They didn't utilise provincial resources for development of their respective districts," said Kamal.
"Today we can't distract our voters through false promises and claims because they have access of information through internet and social media.

Our people were getting mature and we can't compromise on public interest because they have power to hold us questionable," he stressed.
He also said those busy in humiliating each other in public rallies were seen tabling joint resolutions.

CM Kamal promises timely release of funds

"Fortunately today the federal government approaching us for development projects as in past the governments were compelled to visit Islamabad for projects," said chief minister.

He added that the planning commission's team was present in Quetta and the shelved development projects were being inducted in the Public Sector Development Projects (PSDP).
COMMENTS
Comments are moderated and generally will be posted if they are on-topic and not abusive.
For more information, please see our Comments FAQ