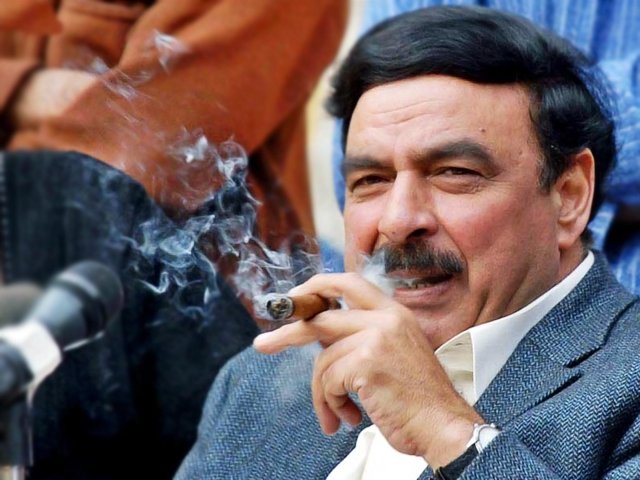 ---
ISLAMABAD: Federal Railways Minister Sheikh Rashid on Friday slammed the National Assembly Speaker Asad Qaiser over his refusal to grant him the Public Accounts Committee (PAC) membership.

Rashid, while addressing railway workers of carriage factory in Islamabad, said the speaker should quote reasons for not allowing him the PAC membership despite receiving a letter from Prime Minister Imran Khan.

The railways minister asserted that the PAC Chairman Shehbaz Sharif would not be accepted at any cost.

He said the NA speaker took an illegal step by appointing Shehbaz as the committee's head but he maintained silence due to PM Khan.

"How a person involved in corruption can be appointed the chairman of the Public Accounts Committee?  He asked

"No deal or relaxation will be given to anyone," he observed.

Criticising the PML-N leadership, the railways minister claimed that the politics of Sharifs started from Qatar and ended on a kidney stone.

He reiterated that the premier would not provide any relaxation or deal to the corrupt leaders.

Addressing the railway workers, the minister announced that all passenger bogies would be manufactured locally from next year.

"I promise that no passenger coach will be imported in future and all the bogies will be prepared in Pakistan Railways factory," he said

He alleged that the past rulers ignored Pakistan Railways Carriage Factory in order to get kickbacks in deals for import of bogies.

He said it was unfortunate that Pakistan Railways' performance had declined due to the wrong policies of the previous government.

Rashid said Prime Minister Imran Khan would inaugurate a train "Thal Express" on February 11. He said two freight trains had been launched recently while more trains would be added to the fleet in near future.

The minister said a VIP passenger train would be launched at the end of March while more passenger trains would also start soon. He was of the view that during the next five years there would be an effective network of railways across the country.

The minister also announced to make Pakistan Railways budget from its own resources from next financial year.

He apprised the audience that Pakistan Railways had earned two billion rupees additional profit from passenger train service in the last six months.

The minister also announced Rs3,000 honorarium each for all employees of Pakistan Railways Carriage.

He said a summary had been moved to the premier for regularisation of 144 employees of the factory while remaining employees would be regularised soon. Rashid vowed to bring salary package of Railways police at par with Punjab police.
COMMENTS
Comments are moderated and generally will be posted if they are on-topic and not abusive.
For more information, please see our Comments FAQ