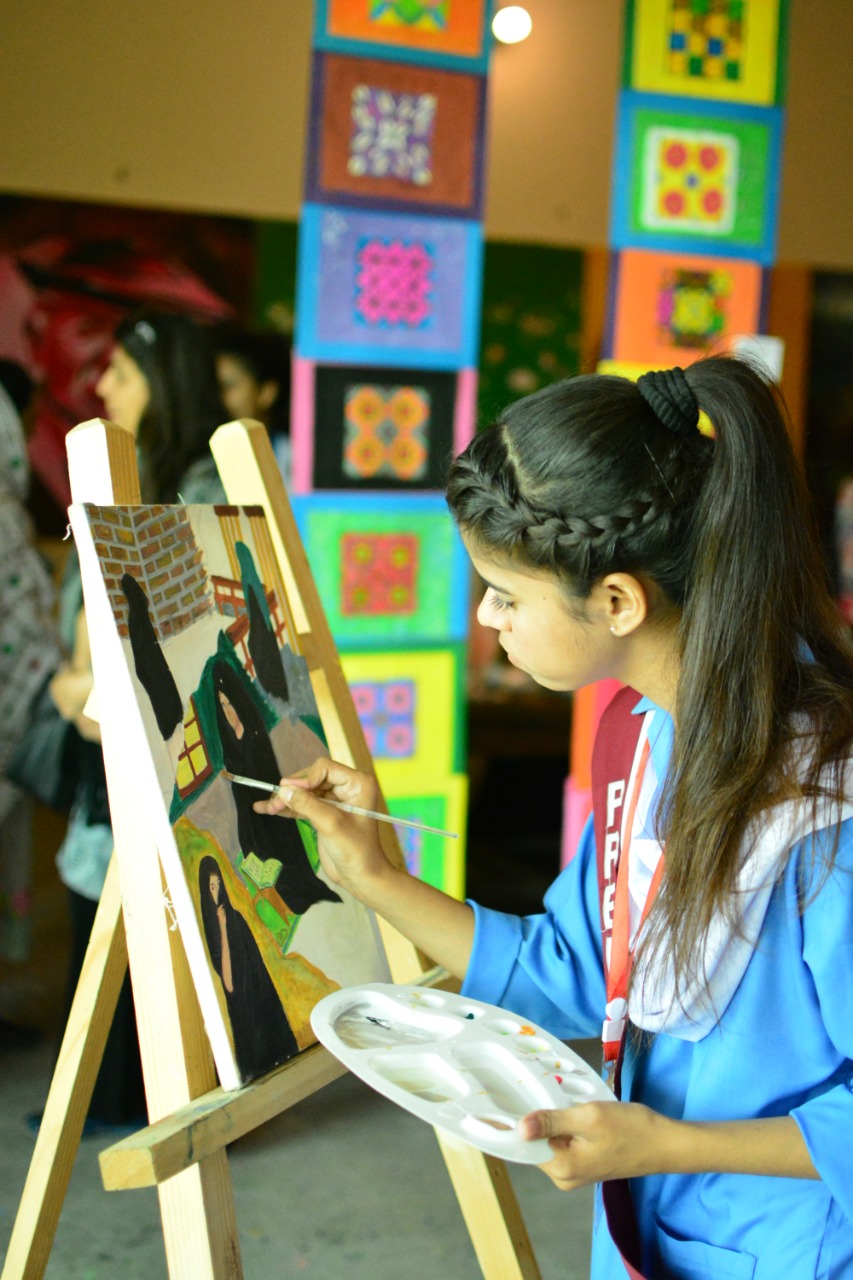 ---
KARACHI: Khatoon-e-Pakistan Government School hosted an art exhibition on Saturday featuring artworks by children enrolled in classes I through IX at government schools. The works included portraits, pointillism, marker art such as zentangle and optical illusion, experimental assignments in merging two animals into one and much more.

One of the artworks that really stood out was a series of split portraits that were incredibly close to reality. Another artwork that caught the attention of the audience was an installation, titled 'Fly Free,' a lopsided arrangement of art room stools each painted with a beautiful story of its own. This was one of the creations of the host school's art club, which meets once a week and gives students the freedom to paint what they want. It also teaches a set of basic and advanced techniques, mediums as well as art history and major art movements. The art programme was introduced to the schools by Zindagi Trust, which employs a subject lead to design a customised art curriculum as well as to train government teachers to teach art.

SMIU Festival of Arts and Ideas concludes

Hameeda Batool, the curator of the show and art teacher at Khatoon-e-Pakistan School, said, "So many parents wanted to ask what they can do to support their child's interest in art and help them possibly pursue it as a career". She added, "What else can a teacher ask for?"
A roundtable, comprising creative thinkers, discussed 'The Role of the Arts in Girls' Education,' and how to capitalise art to transform lives.

The roundtable began with a presentation by Anam Shakil Khan, a visual artist who developed an art curriculum for government schools, on the remarkable journey of the school's art programme from an empty room to where it stands today. <ake-up artist Natasha Khalid of Natasha Salon, sharing her views, said, "Art teaches you from a very early age that nothing fits in a box".

A recurring theme in the discussion was that art teaches children how to think in a new way and helps them learn how to solve problems creatively. "A multimillion dollar oil company will always come to artists and advertisers to sell their business. Logic will not sell it," said Faraz Maqsood Hamidi, an advertising guru.

Indus Valley School of Art and Architecture Communication Design Head Tazeen Husain also participated in the discussion moderated by architect and interior designer Zain Mustafa.

Zindagi Trust manages the two participating government schools, Khatoon-e-Pakistan Government School and SMB Fatima Jinnah Government Girls School, and has transformed the infrastructure, enrolment, parental engagement and student development at the school.

SMB Fatima Jinnah School art teacher, Anna Chohan, expressed her pride in the art show. "It's so uplifting to hear our government school students speaking with so much passion and confidence about their works," she said.

Anam Palla, the project manager at Khatoon-e-Pakistan School concurred. "We believe in giving our students a taste of every discipline, from science and football to chess and art, so that we can help them discover their talents and hone them into the best version of themselves," she said.

All we need is a healthy dose of political activism

Singer and Zindagi Trust Founder, Shehzad Roy, said, "It is so humbling to see these young girls create such beautiful and creative art". He added, "For me, it reinforces the importance of art in schools. Not only does it ignite creative thinking but also positively impacts one's self-esteem and teaches children how to express themselves."
According to the trust, one of the goals of the art show was to advocate for art to be taught in all government schools. An advocacy brief for art education was presented by the trust to the education secretary on his visit to the school.

The art show was inaugurated by Karachi Corps Commander Lt. General Humayun Aziz. Karachi University Visual Studies Dpartment head Durriya Kazi, artist and educator Adeela Suleman, Education Secretary Qazi Shahid Pervez, Chief Secretary Mumtaz Ali Shah, British Deputy High Commissioner Ellin Burns, Actors Fahad Mustafa and Ahsan Khan and musician Bilal Maqsood were among some of the other notables who attended the event.
COMMENTS
Comments are moderated and generally will be posted if they are on-topic and not abusive.
For more information, please see our Comments FAQ